ACUTE CORONARY SYNDROME;
CO-RELATION OF C-REACTIVE PROTEIN WITH CLINICAL OUTCOME OF PATIENTS
Keywords:
C-reactive protein,, Acute coronary syndrome.
Abstract
Introduction: Atherosclerosis is intrinsically an inflammatory disease. Numerous
studies has shown that elevated levels of C-reactive protein (CRP) are associated with increased
cardiovascular risk. The objectives of this study was to determine the correlation of clinical
outcome in terms of 30 day mortality with various level of C-reactive proteins among patients
presenting with acute coronary syndrome Study Design: Descriptive. Setting: Department of
Cardiology, Punjab Institute of Cardiology Lahore. Period: 06 months. Material and Methods:
Total 250 patients presented in emergency department and diagnosed as cases of acute
coronary syndrome base on history of chest pain, ECG and cardiac biochemical markers were
included in the study. Management of ACS was continued while CRP levels of each patient
were measured by latest Agglutination method. Results: Our study included 250 patients with
acute coronary syndrome with a mean age of 52.90±10.34 years. Male patients were 220
(88%). Regarding the clinical presentation of patients, 20 (8%) had unstable angina, 95(38%)
had NSTEMI and 135 (54%) had STEMI.CRP level were measured, 184(73.6%) patients had
CRP levels < 22mg/L with mortality of 12 (6.5%) at 30 days and 66 (26.4%) patients had
CRP levels >22mg/L with mortality of which 13(19.6%) at 30 days. The mean CRP level was
17.9±12.47, 18.08±15.73 and 22.38 + 17.92 for patients with unstable angina, NSTEMI and
STEMI respectively. The stratification of data for effect modifiers showed that 60(24%) patients
had diabetes, 138 (55.2%) patients had hypertension and 65(26%) patients were smokers.
Conclusion: Patients having higher CRP levels had higher risk of 30 day mortality.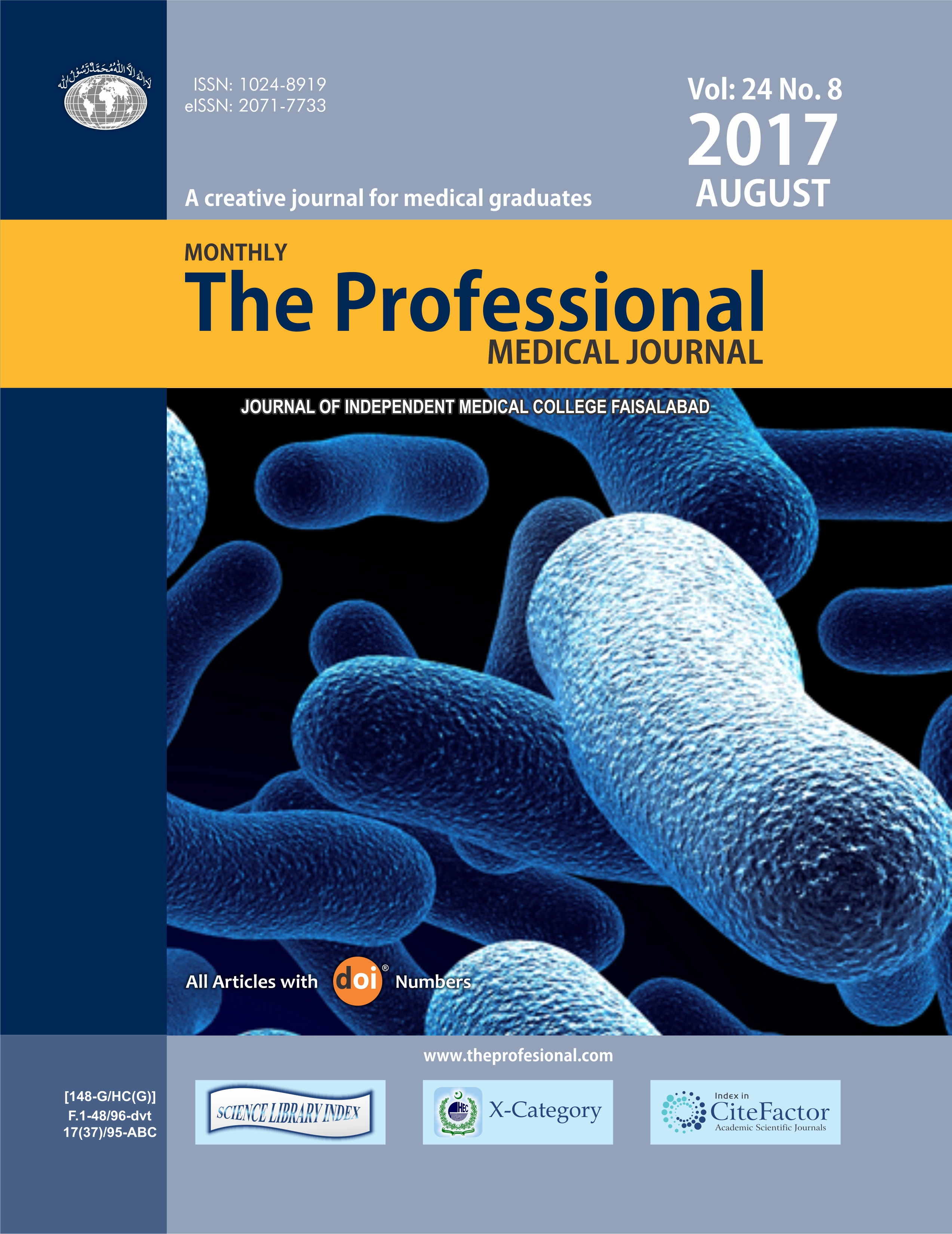 Downloads