OESOPHAGEAL & GASTRIC CARCINOMA;
SURGICAL MANAGEMENT - EXPERIENCE AT ISRA UNIVERSITY HOSPITAL HYDERABAD
Keywords:
Carcinoma,, esophagus,, stomach,, surgical treatment.
Abstract
Objectives: To know the frequency of gastroesophageal carcinoma and
its management at Isra University Hospital Hyderabad Sindh. Study Design: Descriptive,
Prospective. Place and Duration of Study: Isra University Hospital Hyderabad during the period
of January 2014 to January2016. Patient and Methods: Fifty two patients with gastroesophageal
malignancy were scrutinized for elective and emergency surgery according to the stage and
tumor resectability & observed for postoperative complication rate. Data is prepared in SPSS
version 17. Inclusion Criteria: Carcinoma of esophagus and stomach. Exclusion Criteria:
Benign lesions of esophagus and stomach (Tuberculosis, Bourevet's syndrome, Band of
Ladd's, Diaphragmatic Hernia, Phyto/Tricobezoar). Gastric outlet obstruction (GOO) caused
by bilio pancreatic, retroperitoneal or abdominal wall mass. Results: Among fifty two patients
11(22%) were with carcinoma of esophagus and 41(78%) with carcinoma stomach causing
GOO; accounting 38(73%) male & 14(27%) females with age range of 29-69 years. Major
presenting complaints of carcinoma of esophagus were progressive dysphagia from solid to
liquid with significant weight loss while history of heamatemesis was found in only two patients.
Carcinoma stomach mainly presented with symptoms of gastric outlet obstruction (GOO);
partial or complete I.e. vomiting, fullness and epigastric mass with weight loss. Out of total 52
patients; 35 were biopsied and staged preoperatively while 17 patients could not be biopsied
before surgery either because of inadequate tissue specimen or scope negotiation problem.
However after surgery their biopsy was found out malignant. All such patients were optimized
before surgery for correction of hemoglobin, electrolyte imbalance and nutritional support
Feeding jejunostom & gastrojejunostomy were mainly performed for carcinoma esophagus and
stomach while for resectable tumors Ivor Lewis, McKeon or Billroth I or II were also performed
according to the general patient condition and the local resectability of the tumor mass. Our
post-operative complication rate was 26% and comprised nausea, vomiting, wound infection,
and delayed gastric emptying which were treated conservatively. Our operative mortality was
none. Conclusion: Most of our cases were in advanced stage of malignancy which was mainly
dealt with Feeding jejunostomy & Gastrojejunostomy. However Esophagogastric intubation in
advanced malignancy is the safe & effective alternative if available.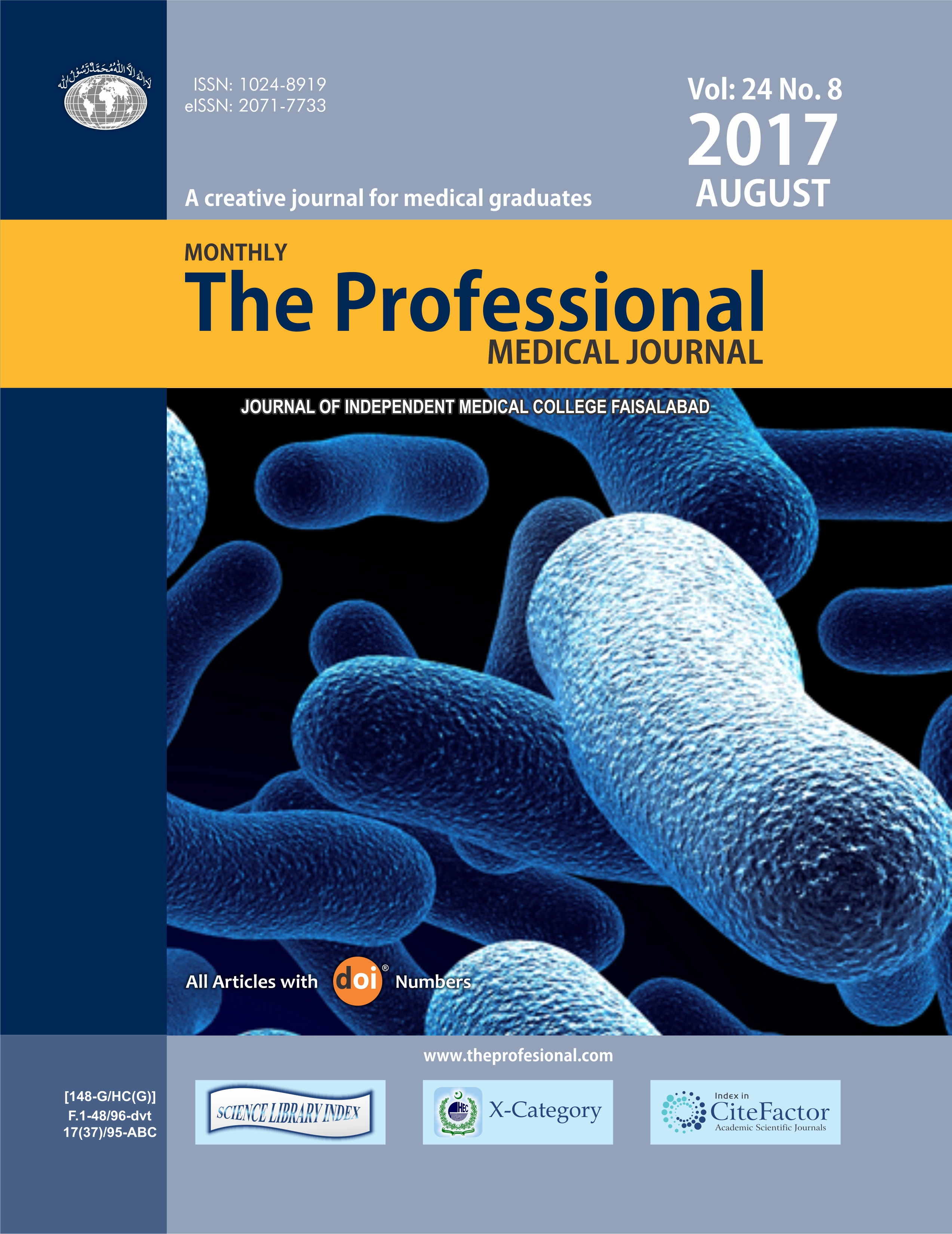 Downloads