HELICOBACTER PYLORI INFECTION;
A STUDY TO SEE THE PREVALENCE AND ALSO TO VALIDATE VARIOUS ASSOCIATED RISK FACTORS IN POPULATION OF SARGODHA
Keywords:
H. Pylori,, Prevalence,, Infection,, Risk Factors,, Population,, Sargodha.
Abstract
Objectives: To estimate the prevalence of Helicobacter pylori infection in
population of Sargodha and determination of possible risk factors. Design: Descriptive study.
Place and Duration: University medical complex & Research Center, Sargodha Medical College,
Sargodha from 01.01.2017 to 31.03.2017. Material and Methods: The study was conducted
among 486 clinically suspected individuals of Sargodha, Punjab, Pakistan. Data was obtained
by questionnaire and H. pylori antibodies were detected by H. pylori 'One Step Test Device'
based on immune-chromatographic technique. Results: A total of 486 individuals participated
in the study of which 327 (67.28%) were positive for H. pylori infection. The prevalence was
66.97% in males and 33.2% in females (p = 0.00) and increased with increasing age (p =
0.000). In the study, significant association was found between age groups, education levels,
food habits, monthly income with H. pylori infection with p values 0.000, 0.000, 0.001, 0.041
respectively while no significant association was seen for source of drinking water (p =0.321).
Conclusion: The results of present study showed the prevalence of H. pylori in reported area
and confirmed that it is higher in developing countries. It is concluded that prevalence of
infection with this bacterium can be minimized by increasing the hygenicity, improving the living
standards and, of course, by educating the nation.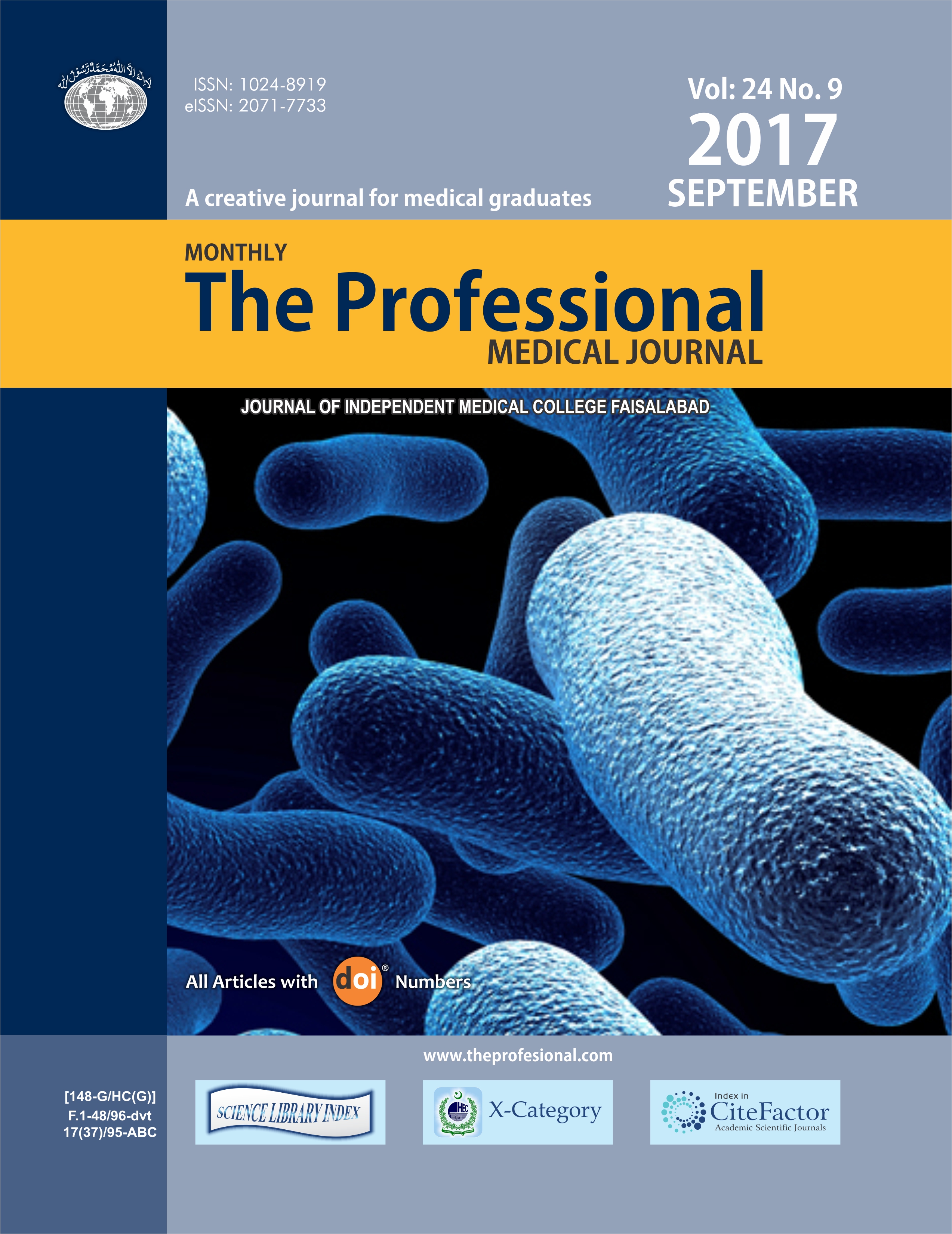 Downloads