HEMORRHOIDECTOMY;
STAPLED VERSUS CONVENTIONAL HEMORRHOIDECTOMY IN TERMS OF POST OPERATIVE PAIN AND HOSPITAL STAY.
Keywords:
Stapled versus conventional hemorrhoidectomy,, internal haemorroids
Abstract
Objectives: Is to compare outcomes in terms of mean post-operative pain and
hospital stay between stapled versus conventional hemorrhoidectomy. Hypothesis: There is
a difference in mean post-operative pain and hospital stay between stapled and conventional
hemorrhoidectomy, stapled technique is better than conventional technique. Study Design:
Randomized control trial. Setting: Department of General Surgery Bakhtawar Amin Memorial
Hospital Multan. Period: February 2016 February 2017. Methodology: A total number of 60
patients enrolled in the study, both genders. Statistical software SPSS ver.23 was used to
analyze the data. Mean and SD were calculated and presented for numerical variables like
duration of hemorrhoids, age and pain score while frequencies and percentage were calculated
and presented for categorical variables like ender and grade of hemorrhoids. Independent t-test
and chi square test were applied to see effect modification. P value ≤0.05 was considered as
significant. Results: Total number of 60 (100%) patients in the study, 32 (53.3%) were male
and 28 (46.7 %) were female. Mean hospital stay in group A was 1.63 ± 0.71 and in group
B means duration of hospital stay was 1.73 ± 0.74. A P value was 0.001. On stratification of
data it is concluded that in group A 9 patients have no pain 6 have mild and 6 have moderate
pain and 5 patients have severe pain, similarly in group B, 3 patients have no pain 2 have mild
pain 1 have moderate pain and no patient have severe pain. P value for male patients was
2.65. Conclusion: This study confirms that stapled hemorrhoidectomy is associated with less
postoperative pain with no effect of age and gender on outcome.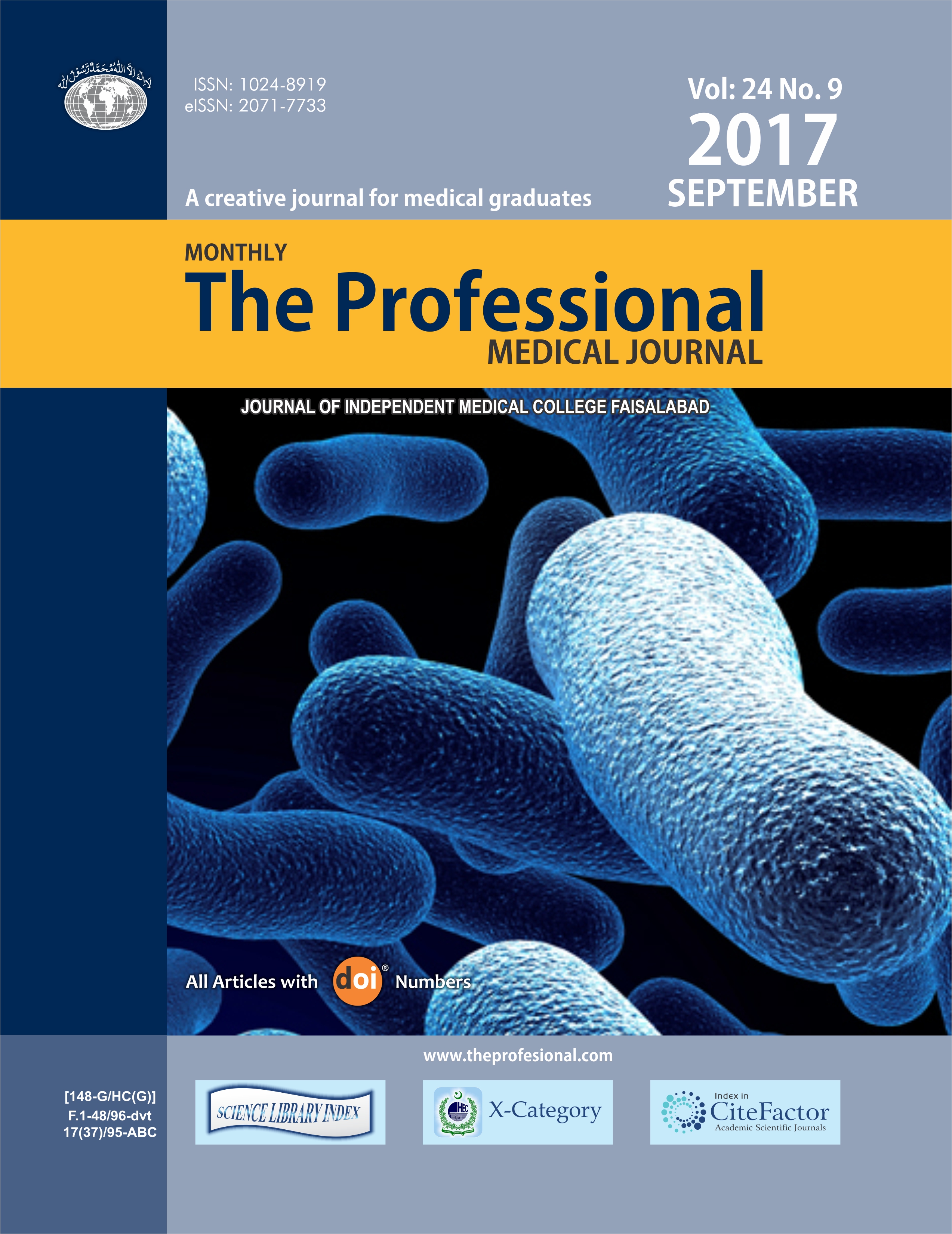 Downloads