ACUTE MYELOID LEUKEMIA;
DEMOGRAPHIC FEATURES AND FREQUENCY OF VARIOUS SUBTYPES IN ADULT AGE GROUP.
Keywords:
Acute myeloid leukemia,, demographic features,, subtypes.
Abstract
Background: Acute myeloid leukemia (AML) is an aggressive haematological
malignancy with highest incidence in older adults. AML accounts for approximately 25% of all
leukemias in adults in the Western world, and therefore is the most frequent form of leukemia.
Objective: The aim of study was to analyze the demographic and clinical features and frequency
of various subtypes of acute myeloid leukemia in adult age group in our population. Study
design: Descriptive Cross sectional survey. Settings: The study was conducted in Pathology
Department, King Edward Medical University, Lahore. Study Period: Five years September
2007 to September 2011. Material and Methods: A five year data of patients diagnosed as
acute myeloid leukemia was collected from September 2007 to September 2011 in Pathology
Department, King Edward Medical University, Lahore. Patients on chemotherapy and
radiotherapy were excluded from the study. Results: Among the 77 patients of Acute Myeloid
Leukemia, Acute myeloid leukemia with maturation AML M2 (37.7%) was the most common
subtype and the least common was Acute megakaryoblastic leukemia AML M7 (1.3%).Mean
age for AML was 28 years (Range 15-75 years). M:F ratio was 1.5:1. Fever was found be the most
frequent presenting feature followed by pallor, bleeding and gum hypertrophy in the descending
order. More than 50% patients presented with hepatosplenomegaly. Lymphadenopathy was
seen in 30% of patients. Mean peripheral blood blast count was 29%. 12 patients (15.5%)
presented with pancytopenia. Conclusion: The study showed male predominance in Acute
myeloid leukemia with mean age of 28 years and the most common subtype was AML- M2.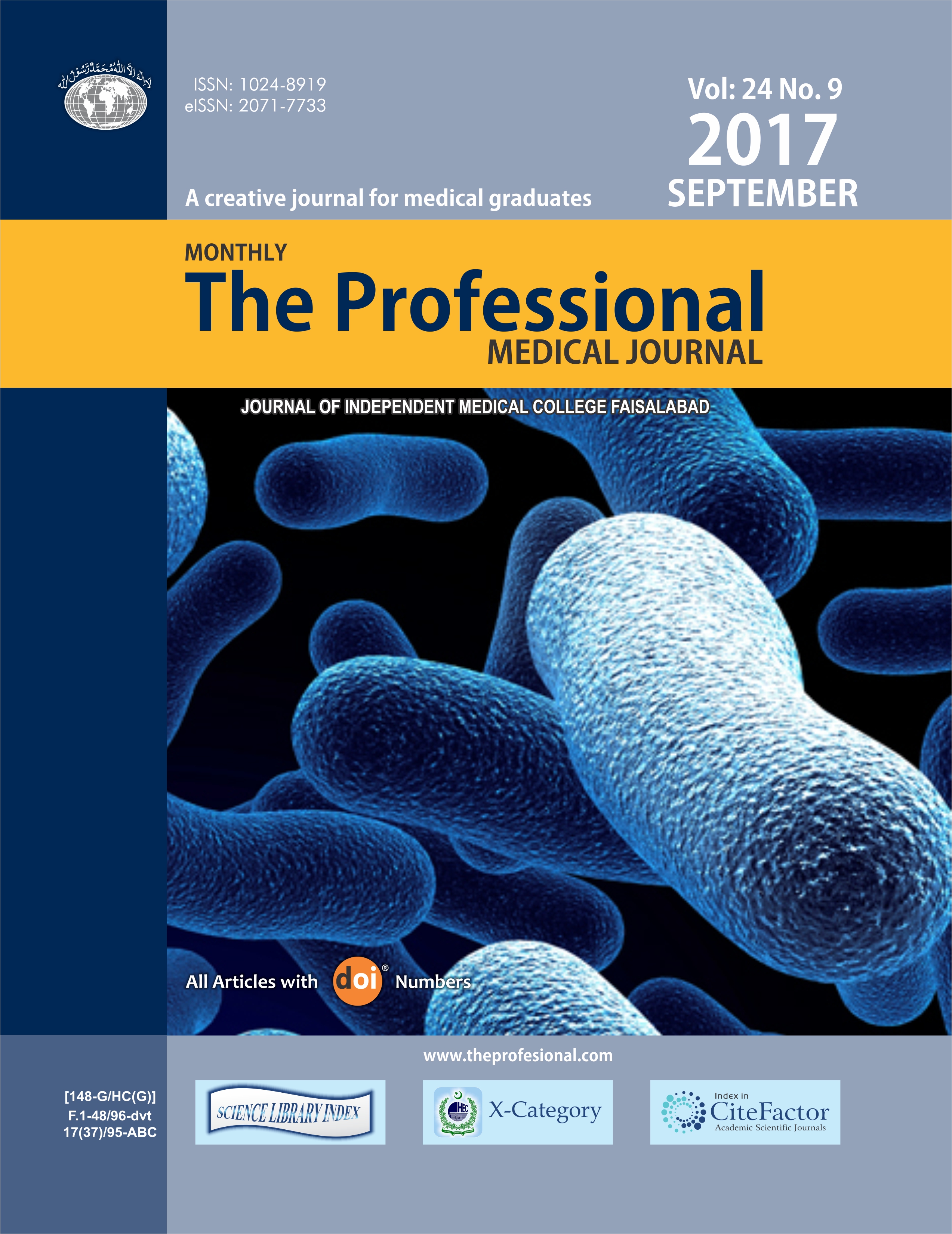 Downloads