CHRONIC HEPATITIS C
APRI SCORE A NONINVASIVE MARKER, ITS PREDICTIVE VALUE FOR DETERMINATION OF HEPATIC FIBROSIS AND LIVER CIRRHOSIS AT TERTIARY CARE HOSPITAL HYDERABAD/ JAMSHORO
Keywords:
APRI score, liver biopsy, hepatic fibrosis, chronic hepatitis C
Abstract
The major causative factor of hepatic cirrhosis and its complications in chronic
hepatitis C is due to presence of liver fibrosis. To assess prognosis and management related
decisions, the exact staging of liver fibrosis is of greatest importance. Now, liver biopsy
is the inexact gold standard for this purpose. APRI or AST to platelet ratio Index is the best
noninvasive marker which can predict presence of fibrosis in majority of chronic hepatitis C
patients without the need of biopsy. It is also cost effective and only depends on routine testing
(Platelet count and serum AST). Objectives: To determine the positive predictive value of
APRI Score for the prediction of fibrosis and cirrhosis in chronic hepatitis C patients. Study
design: Cross sectional study. Setting: Medical wards and Out Patient Medicine Department
of Liaquat University Hospital Hyderabad / Jamshoro. Period: 6 months. Methodology: A total
of 51 patients of either gender, age >14 years presenting to Medical wards and OPD for the
evaluation of chronic hepatitis were enrolled in this research study after giving preference and
avoiding criteria. Clinical data was collected at the time of liver biopsy and blood samples for
liver function tests, blood glucose and complete blood picture with platelet count were collected
before the biopsy (only AST and platelet count are needed for APRI score) a core biopsy needle
of 14 gauge was used and the procedure was conducted under ultrasound guidance. Fibrosis
stage was determined according to the METAVIR group scoring system. The patients were
examined in a very comfortable manner and all the information collected from the patients was
kept confidential and entered in the predesigned proforma. Results: A total of 51 patients were
selected for this study. Out of these 31 (60.78%) were male and 20(39.22%) were female. The
mean age was 42.53 years (±11.2 SD). The positive predictive value for APRI score between
0.5 to 1.0 was 58.82% whereas the positive predictive values for APRI score 1.1-1.5 was 70.58%.
Conclusion: The positive predictive values of APRI score in the ranges of 0.5 to 1.5 were not
indicative of the presence of significant liver fibrosis in this research study. However, additional
data are required to authenticate or disprove the usefulness of APRI score for the prediction of
significant hepatic fibrosis in chronic hepatitis C patients.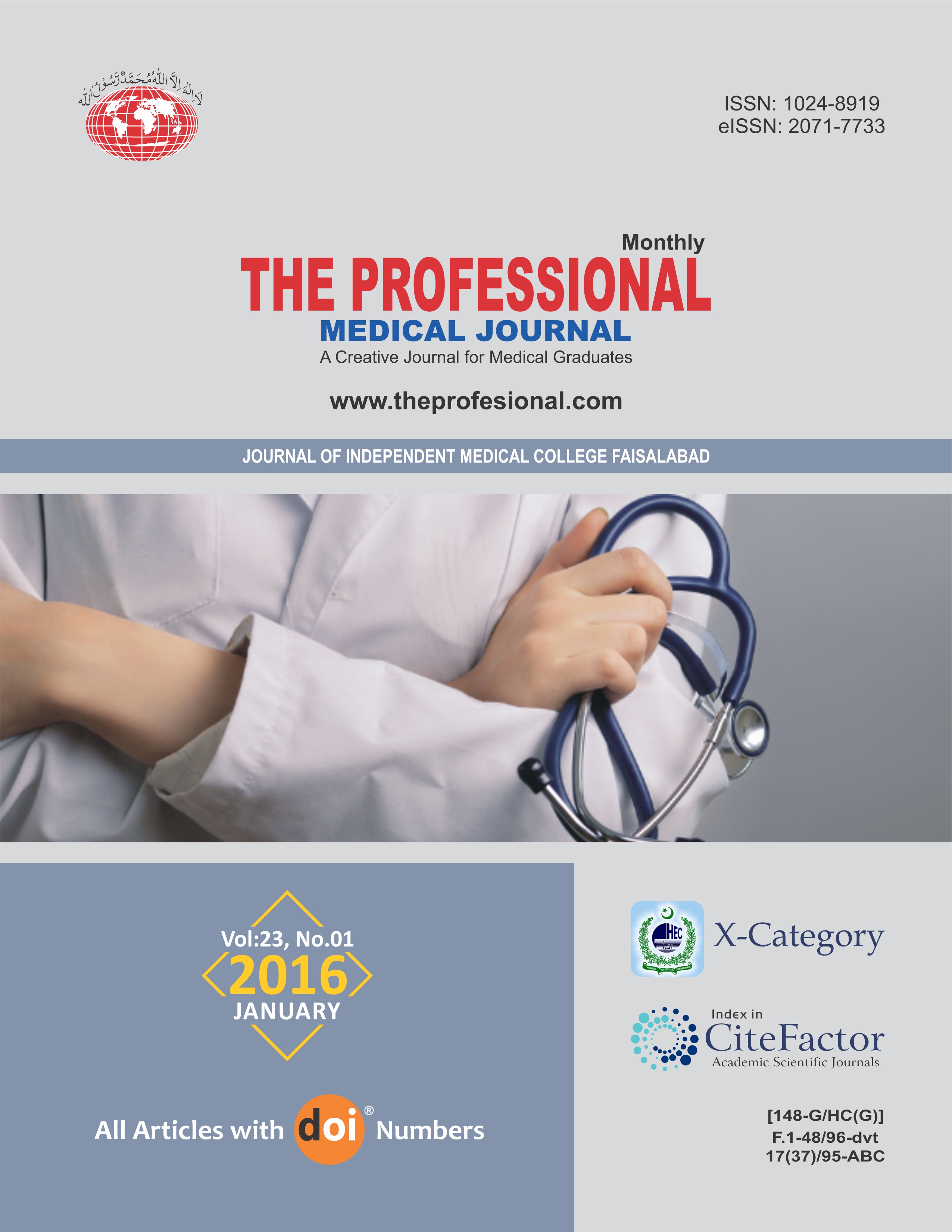 Downloads