Perceived stress and its effect on cardio-respiratory system in first year medical students.
Keywords:
Blood Pressure, Psychological Stress, Pulmonary Function Test, Perceived Stress Scale, Students
Abstract
Objectives: To determine the correlation of perceived stress with blood pressure and pulmonary function tests in normal, healthy first-year medical students. Study Design: Cross Sectional study. Setting: Department of Physiology, Al-Tibri Medical College, Isra University Karachi Campus. Period: August 2021 to February 2022. Material & Methods: From all the students enrolled in the first year MBBS during academic year 2021-22, data from 72 students were evaluated who met the inclusion criteria. The sphygmomanometer was used to measure the blood pressure parameters, and the Biopac ® data acquisition system was used to measure the pulmonary function test variables. A ten-item classic stress assessment questionnaire was used to evaluate the perceived stress scale, and the observed values were then correlated with the variables of blood pressure and pulmonary function tests. Results: The majority of the study cohort (69.44%) is in a moderate level of stress with female predominance (p= 0.001), while diastolic blood pressure (p=0.008), mean arterial blood pressure (p=0.006), vital capacity (p=0.000), forced vital capacity (p=0.006), forced expiratory volume in the first second (p=0.003) all negatively correlated with perceived stress scale in the participants. Conclusion: The findings of the present study point toward possible delirious effects of stress on cardio-pulmonary health. The timely detection and address budding stress issues in the early years of medical schools by establishing counseling and preventive mental health services centers will prevent future morbidity and produce healthy doctors.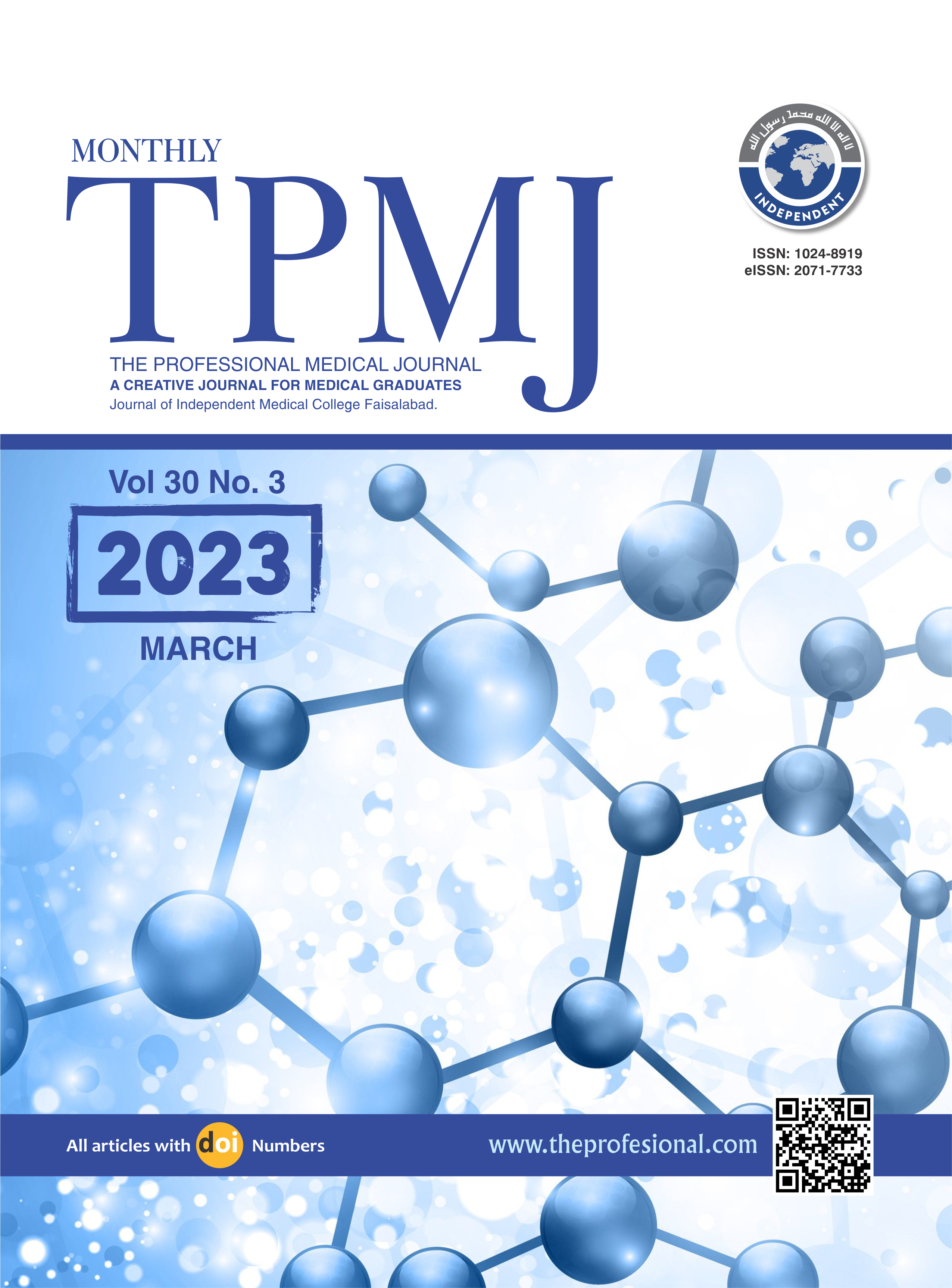 Downloads
License
Copyright (c) 2023 The Professional Medical Journal
This work is licensed under a Creative Commons Attribution-NonCommercial 4.0 International License.