UNICOMPARTMENTAL OSTEOARTHRITIS OF KNEE
OUTCOME OF HIGH TIBIAL OSTEOTOMY IN UNICOMPARTMENTAL OSTEOARTHRITIS OF KNEE
Keywords:
High Tibial Osteotomy, Osteoarthritis Knee, Locking and Non Locking Plates, Bone Graft
Abstract
Background: Osteoarthritis is more common in females because in
postmenopausal state, it is linked with high body weight, higher subcutaneous fat, deficiency
of calcium and weakness of muscles associated with changes in harmones. Objectives: To
assess the outcome of high tibial osteotomy in unicompartmental osteoarthritis of knee in terms
of pain and improvement in function. Study Design: Prospective study. Setting: King Abdullah
Teaching Hospital, Mansehra. Period: 1st January 2016 to 31st December 2017. Materials
and Methods: Two hundred and forty eight cases were included in which twenty cases were
operated by the use of modified coventry technique, twenty cases were operated by open
wedge osteotomy with non locking plates as well as bone graft and remaining 208 cases were
operated by medial open wedge osteotomy and iliac graft secured by locking plate. In all cases
at eight weeks, six weeks and third post operative day respectively allowed full weight bearing.
Post-operative changes in tibio femoral angle included in radiographical analysis. 2 years mean
follow-up of all these cases. Results: Function score and pain of knee improved considerably as
the p value <0.001 in our study. Maximum pain score is 50, pre-operatively average pain score
was 18±7 and 44±5 was postoperatively. There was a significant improvement at two years in
the function of cases 244 (98.38%) according to grading used for judgment of function in knee
score. Pre-operatively mean functional knee score in 110 cases (88.70%) cases were 28.86,
(100 is the maximum functional knee score) and 70.45 was post-operatively. In tibiofemoral
angle there was a correction of 5.2±1.5 degree varus preoperatively and postoperatively as
well as valgus 5.8±1.3 degree respectively. Conclusion: In function and pain of the knee,
there was significant improvement after the deformity correction (p value <0.001). In 88.23%
outcomes of high tibial osteotomy in knees rated as excellent. Due to associated comorbidity
and excessive over correction, there were poor outcomes in two cases. There is significant
association between the obtained postoperative valgus and relief in pain.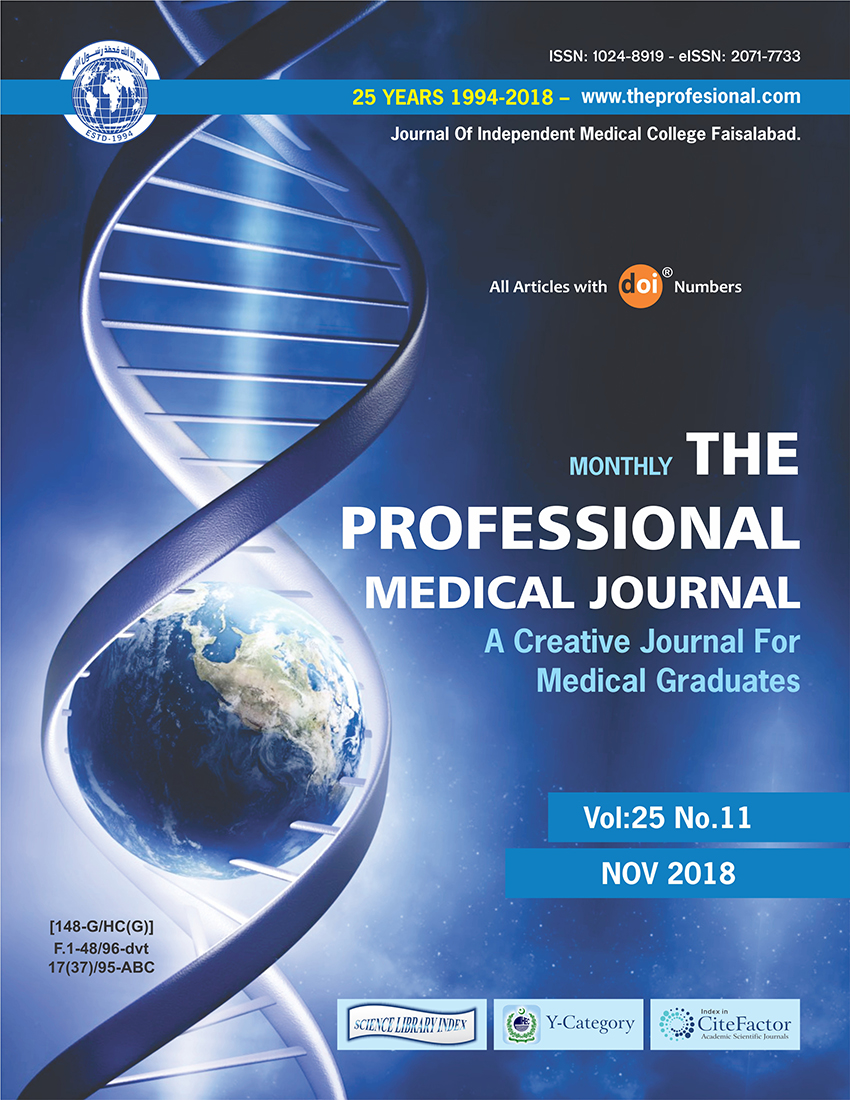 Downloads