GASTROINTESTINAL SURGERIES
OPERATIVE DIAGNOSIS AND POSTOPERATIVE OUTCOME OF PATIENTS UNDERWENT GASTROINTESTINAL SURGERIES
Keywords:
Intestinal surgeries, diagnosis, outcome
Abstract
Objectives: To determine the operative findings of patients underwent
gastrointestinal surgeries and postoperative outcome according to Clavien-Dindo system. Study
Design: Prospective study. Setting: Isra University Hospital Hyderabad and LUMHS Jamshoro/
Hyderabad. Period: One year duration from 2014 to 2015. Material and methods: Total 50
patients were included those were underwent Gastrointestinal Surgery. After taking detailed
history and clinical examination, relevant investigations i.e. CBC, abdominal X-ray, Methylene
Blue Test to confirm the leaks and abdominal ultrasound were done. All operative findings
and postoperative outcome according to Clavien-Dindo system was recorded in the proforma.
After collection of data was analysed by (SPSS) version16.0. Results: Total 50 cases studied,
their mean age was 46.6+9.7 years, male were found in majority 36 (72.0%) while female were
14 (28.0%). Most common diagnosis in of patients those underwent gastrointestinal surgeries
were typhoid perforation 22.0%, tuberculosis 18.0%, Duodenal perforation 20.0% and intestinal
obstruction was 10.0%. Postoperative outcome was assessed according to the Clavien-Dindo
scoring system as; majority of the cases 16 (32.0%) were found without complications, 12
(24.0%) with grade II, followed by 10 (20.0%) were with grade I, 04 (08.0%) were with grade III,
only 2 (4.0%) cases were found with grade IV and 06 (12.0%) cases were died during follow up
and those were with grade V. Conclusion: It is concluded that most common operative findings
were typhoid perforation, tuberculosis, duodenal perforation and intestinal obstruction findings
inpatients those underwent gastrointestinal surgeries. According to the Clavien-Dindo scoring
system and majority of the cases were with grade I and grade II and 6 cases were died those
were enrolled as grade V.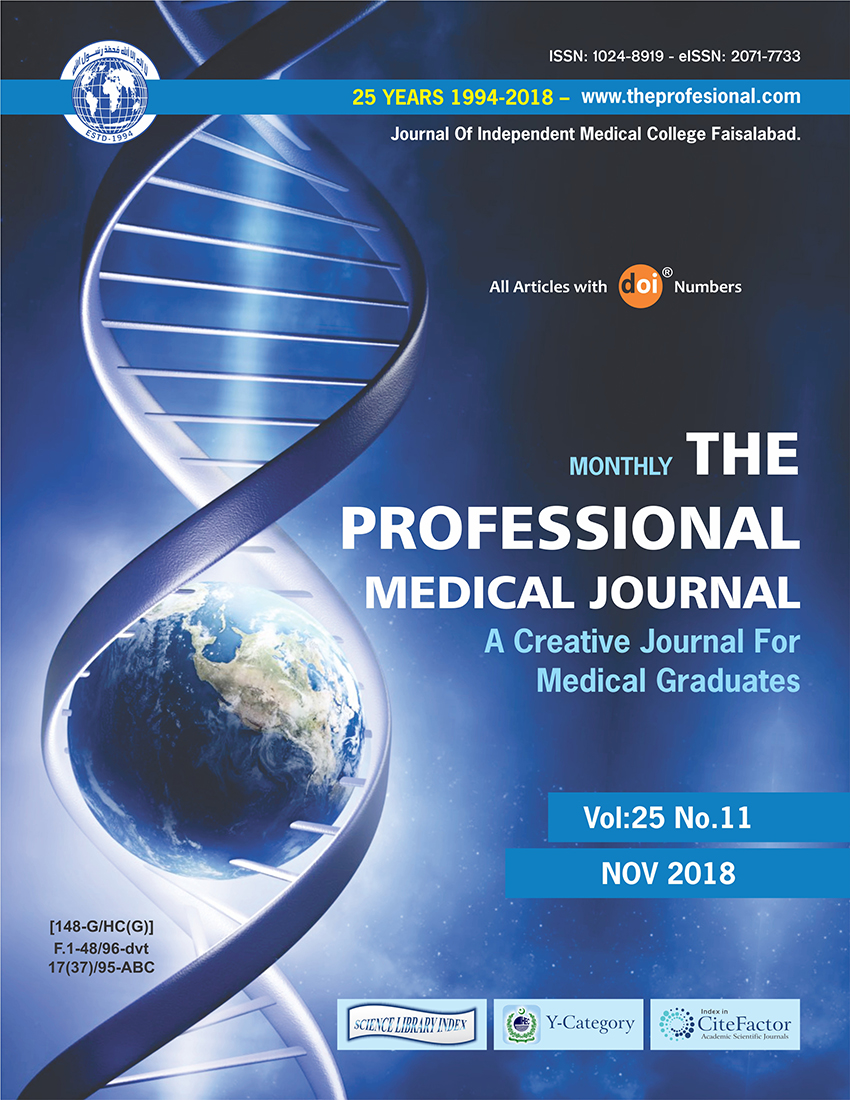 Downloads