OSTEOARTHRITIS;
PATTERN OF SYMPTOMATIC AND RADIOGRAPHIC IN THE URBAN POPULATION OF KARACHI
Keywords:
Osteoarthritis,, Symptomatic,, Radiographic,, Pattern,, Monofocal and Multifocal.
Abstract
Objectives: To determine the pattern of symptomatic and radiographic
osteoarthritis in the urban population of Karachi. Data Source: Outpatient clinics. Design of
Study: Cross sectional observational. Setting: Liaquat National Hospital, Karachi. Period:
August 2015 till July 2016. Materials and Methods: Symptomatic patients belonging to both
genders, aged ≥ 30 years, having clinical and radiographic osteoarthritis involving knee, hip,
spine, hand, foot and shoulder were included. Diagnosis of knee osteoarthritis was based on
American College of Rheumatology criteria, whereas the diagnosis of other joint areas was
based on clinical and radiographic features. Patients were categorized as having monofocal or
multifocal osteoarthritis. The results were interpreted as frequencies and percentages. Results:
Of the total 215 patients, 137 (63.7%) were females and 78 (36.27%) were males with mean
age of 52.2 ± 9.3 years. Monofocal and multifocal osteoarthritis was found in 151 (70.23%) and
64 (31.2%) patients respectively. Knee osteoarthritis (92.7%) was the most frequent monofocal
presentation. Of 64 patients with multifocal osteoarthritis, knee and hip joint were involved in
28 (43.75%) and knee and hand osteoarthritis was found in 13 (20.3%) patients. Seven patients
(10.9%) had osteoarthritis of three or more joints. Overall bilateral knee osteoarthritis was
found in 158 (77.45%) patients. Conclusion: Bilateral symptomatic and radiographic knee
osteoarthritis was the most common presentation. Comparatively less proportion of patients
had osteoarthritis of three or more joints.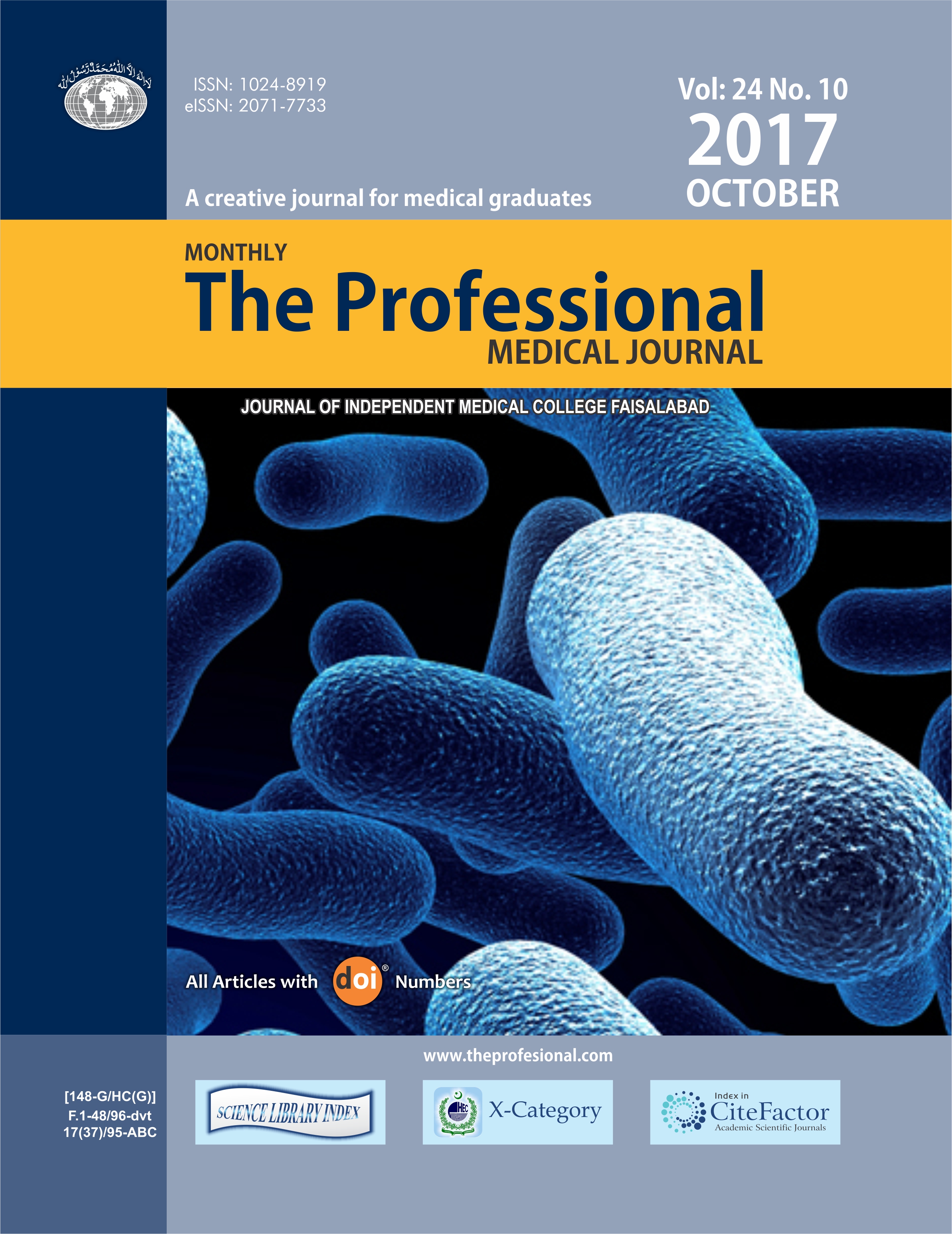 Downloads