ACUTE KIDNEY INJURY;
FREQUENCY IN HOSPITALIZED PATIENTS.
Keywords:
Acute Kidney Injury,, Hospitalized Patients,, Responsible Factors.
Abstract
Objectives: To determine the frequency of acute kidney injury in hospitalized
patients at Nishtar hospital, Multan. Study Design: Cross sectional study. Setting: Medical
Unit-IV, Nishtar Hospital, Multan. Duration: Duration of study was 6 months from 17/07/2015
to 16/01/2016. Material and Methods: This study involved 383 patients of either sex aged
between 37-60 years admitted to medical ward for various medical conditions. Results: The
mean age of the patients was 48.96±7.24 years. There were 198 (51.7%) male and 185 (48.3%)
female patients in the study group. The most frequent underlying cause requiring hospital
admission was a respiratory tract disease observed in 153 (39.9%) patients. AKI was observed
in 104 (27.2%) patients. When stratified the frequency of AKI increased significantly with
increasing age of the patient; 37-42 years vs. 43-48 years vs. 49-54 years vs. 55-60 years (17.3%
vs. 22.7% vs. 26.2% vs. 42.0%; p=.001). It was also significantly (p=.000) higher in patients
with diabetes (47.4%) and hepatobiliary disease (34.7%) at admission followed by infections
(26.4%) and respiratory tract diseases (17.6%). However, there was no significant difference in
the frequency of AKI across genders; male vs. female (25.8% vs. 28.6%; p=.525). Conclusion:
Very high frequency of acute kidney injury was observed in our study. Acute kidney injury was
significantly associated with increasing age particularly more than 50 years and underlying
medical conditions with particular reference to the diabetes mellitus and hepatobiliary diseases.
Serial renal parameters monitoring should be adopted for early diagnosis followed by timely
management of acute kidney disease. It will decrease associated disease morbidities and
mortalities and will also improve quality of life of these patients.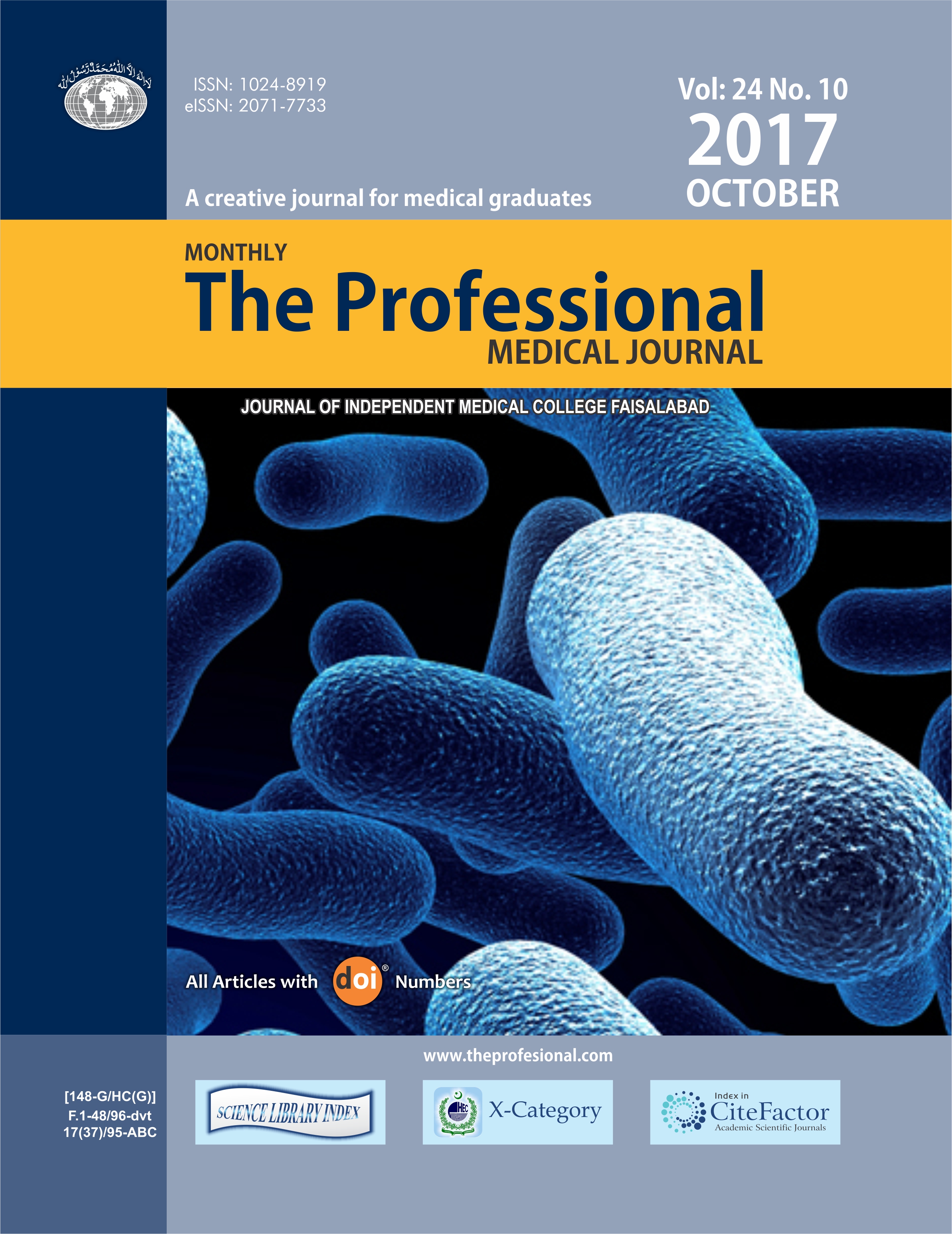 Downloads