Frequency of arteriovenous fistula stenosis and access recirculation in patients undergoing maintenance hemodialysis.
Keywords:
AVF Stenosis, Access Recirculation, Hemodialysis
Abstract
Objective: To determine the frequency of Arteriovenous Fistula (AVF) Stenosis and Access Recirculation (AR) among Hemodialysis patients. Study Design: Cross-Sectional Study. Setting: Dialysis Unit, Nephrology Department, Fatima Jinnah Medical University, Sir Ganga Ram Hospital, Lahore. Period: July 2017, to December 2017. Material & Methods: Eighty-four patients on maintenance hemodialysis fulfilling selection criteria were enrolled in the study. All the patients underwent Doppler ultrasonography for AVF stenosis detection and Peak systolic velocity (PSV) of more than 500 ml/sec predicted 50% or greater stenosis of AVF. A two-needle urea-based method was used for the calculation of AR and the AR value of more than 10% was considered significant. Data were analyzed in Statistical Package for Social Science (SPSS) v23.0. Data were stratified according to age, sex, BMI, hypertension, smoking, and duration of dialysis. Post-stratification, Chi-square was used. P-value ≤0.05 was taken significantly. Results: Among ESRD patients, 60(71.4%) were males and 24(28.6%) were females. 65(77.4%) had hypertension and 21(25.0%) were smokers. Among these patients, 6(8.3%) had AV fistula stenosis, and 10(11.9%) had access re-circulation. Statistically, a significant correlation was only present between AVF stenosis and AR (p-value 0.003) Conclusion: The periodic measurement of AVF stenosis and AR have diagnostic implications in maintenance hemodialysis patients because these are important causes of inadequate dialysis.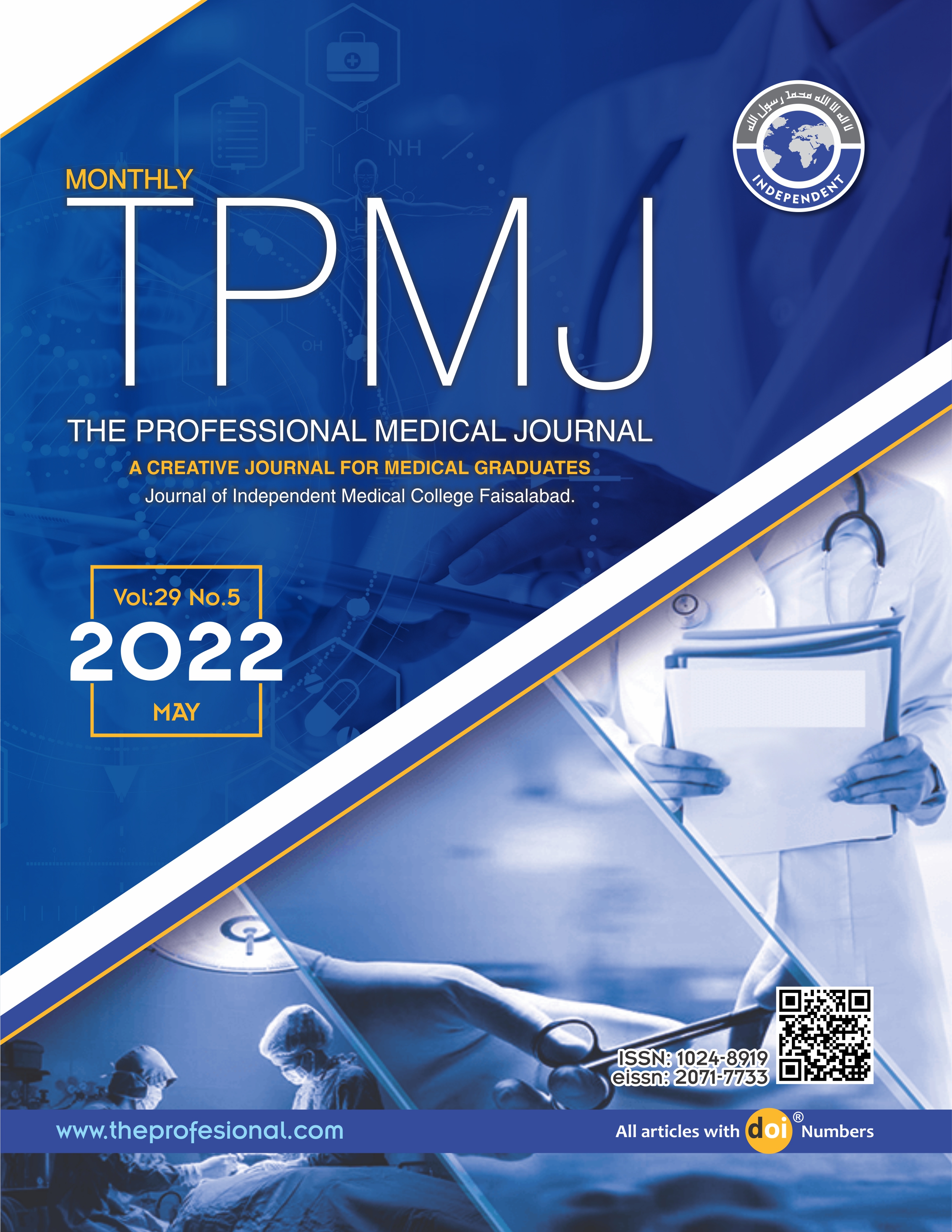 Downloads
License
Copyright (c) 2022 The Professional Medical Journal
This work is licensed under a Creative Commons Attribution-NonCommercial 4.0 International License.