Prevalence and risk factors of systemic hypertension among children.
Keywords:
Blood Pressure, Hypertension, Pre-Hypertension
Abstract
Objective: To find out the prevalence and risk factors of systemic hypertension. Study Design: Cross Sectional study. Setting: Department of Pediatrics, Sughra Shafi Medical Complex, Sahara Medical College, Narowal. Period: July 2020 to June 2021. Material & Methods: A total of 298 children of both gender aged 4-12 years, visiting pediatric outpatient department of the study institution were enrolled. A child was labeled as normotensive if blood pressure (BP) measurement was below 90th percentile, pre-hypertensive if BP between 90th to 95th percentile and hypertensive if BP more than 95th percentile. The data was analyzed using SPSS version 26.0. Results: In a total of 298 children, 171(57.4%) were male. Overall, mean age was found to be 7.6+2.1 years while 159 (53.4%) were below 7 years of age. Majority of the children, 166 (55.7%) belonged to rural areas of residence. Family history of hypertension was noted in 150 (50.3%) children. Hypertension was found in 56 (18.8%) children, pre-hypertension in 9 (3.0%) while remaining 233 (78.2%) children were normotensive. Age less than 7 years (p=0.0023), overweight/obesity (p=0.0026) or family history of hypertension (p=0.0118) were found to have significant association with hypertension. Conclusion: High prevalence of systemic hypertension was noted in children. Younger age, high body mass index and family history of hypertension were found to be significantly associated with hypertension.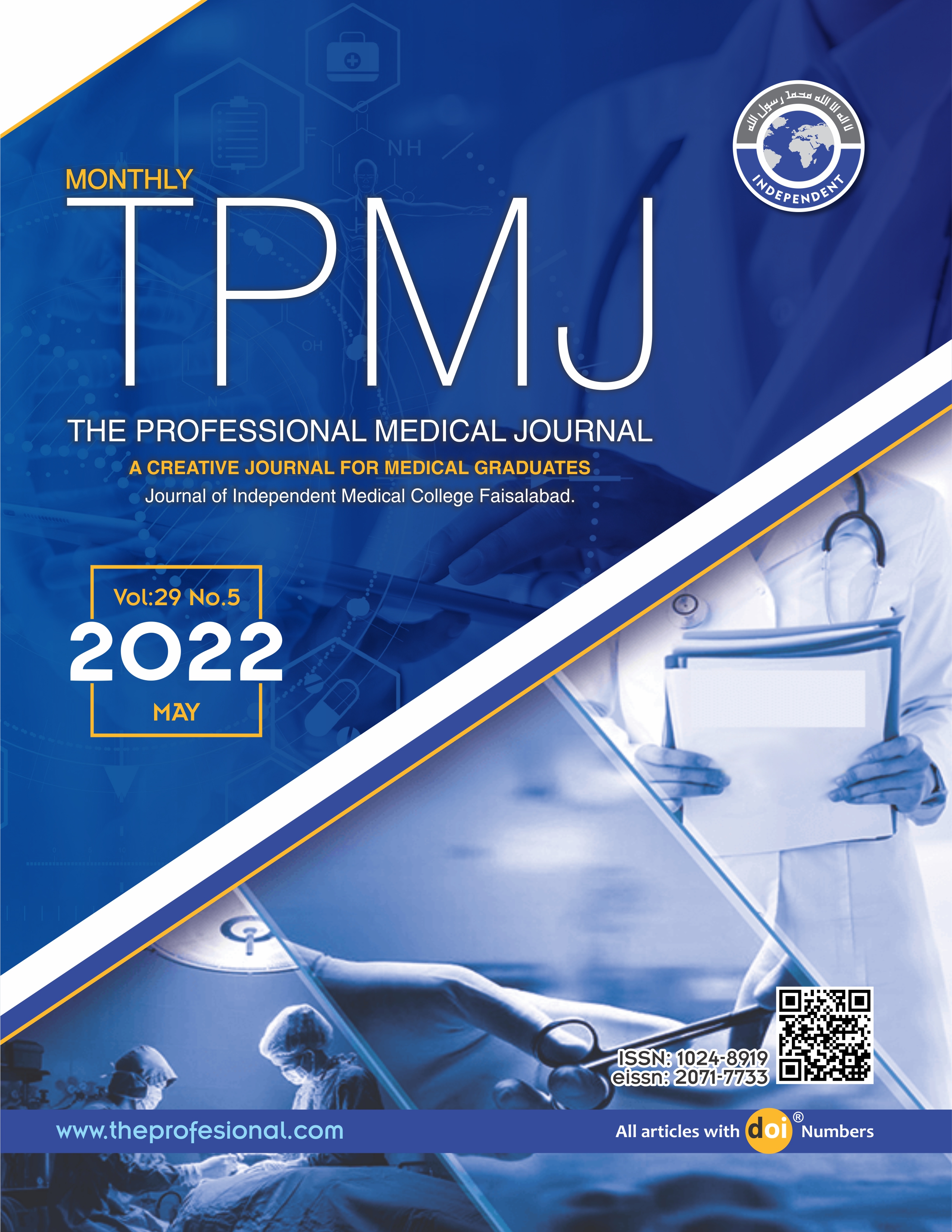 Downloads
License
Copyright (c) 2022 The Professional Medical Journal
This work is licensed under a Creative Commons Attribution-NonCommercial 4.0 International License.