Antimicrobial susceptibility pattern of ceftazidime-avibactam against Eschericia Coli.
Keywords:
Antibiotics Resistance, Antibiotics Sensitivity, Ceftazidime-Avibactam, Enterobacteriaceae
Abstract
Objectives: To identify the susceptibility of Ceftazidime-avibactam against Escherichia coli and their frequency in different clinical specimens. To correlate the susceptibility pattern of ceftazidime-avibactam against Escherichia coli in different age groups and gender. To evaluate susceptibility of drugs among Escherichia coli as compared to traditional antibiotics. Study Design: Cross-sectional Study. Setting: PNS Shifa Hospital Karachi. Period: September 2019 to May 2020. Material & Methods: The sample size was 150. The age group 10-50 years. Ethical permission was taken. Informed consent was taken. The specimens were inoculated on Blood and MacConkey's agar culture plates. The culture plate was inoculated at 37℃ in incubator for 24 to 48 hours. Identification of Enterobacteriaceae was done by colony morphology, gram staining, biochemical tests, and API 20E. After identification, the susceptibility profile of conventional antibiotics was identified. Mueller Hinton agar was used to check the antibiotic susceptibility of Ceftazidime-avibactam by disk diffusion method. Results: Ceftazidime-avibactam shows sensitivity against 82.7% of the isolates while 17.3 % isolates were resistant. The minimum inhibitory concentration of microorganisms is measured by E-test method that revealed most of the isolate show sensitivity less than 1 µg/mL concentration whereas few of them showed susceptibility on 2-8 µg/mL concentration. We compared our results with other classes of antibiotics used commonly This gives an insight for improved treatment methodologies for future prospects particularly diseases caused by members of Enterobacteriaceae. Conclusion: It was concluded that Ceftazidime-avibactam is a novel drug combination that shows high sensitivity against Escherichia coli.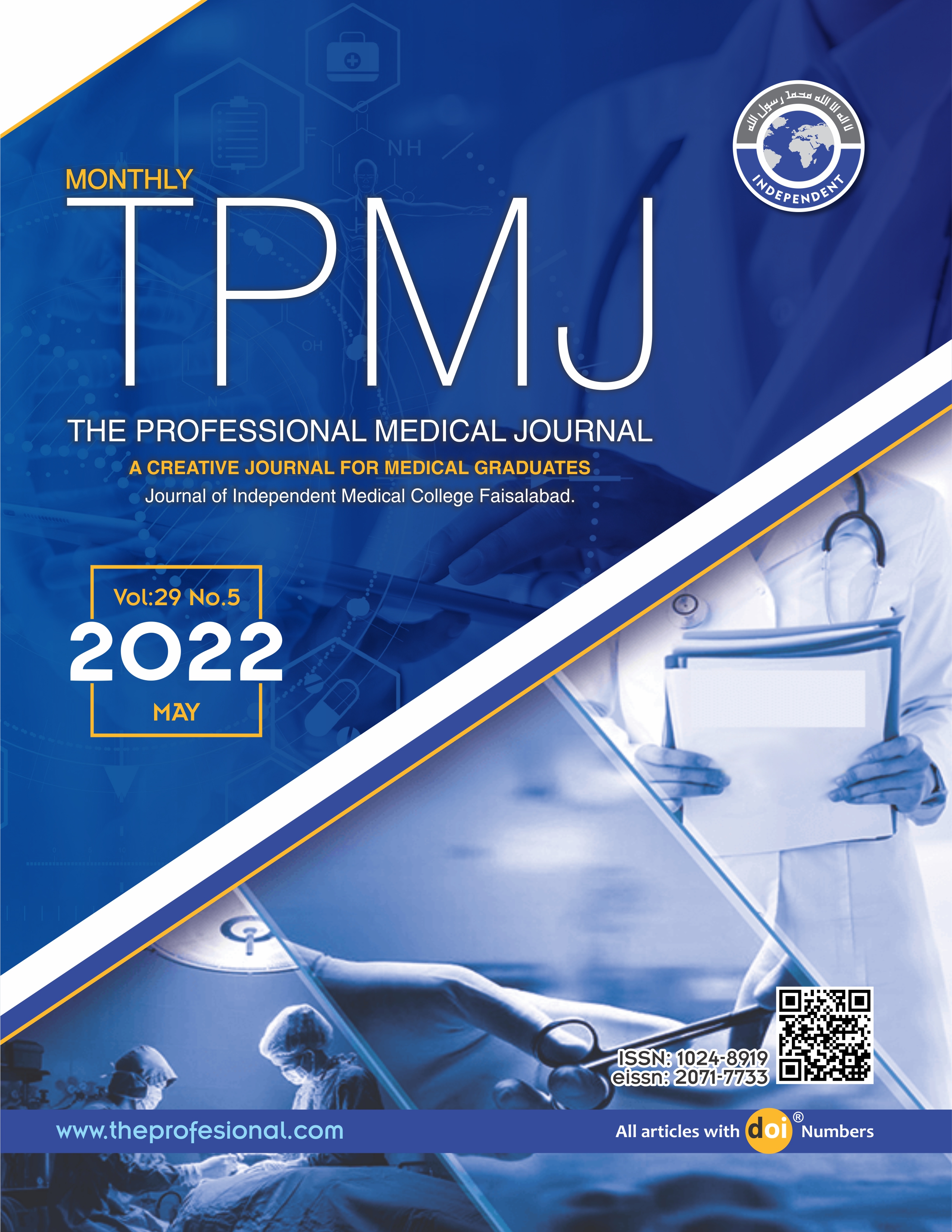 Downloads
License
Copyright (c) 2022 The Professional Medical Journal
This work is licensed under a Creative Commons Attribution-NonCommercial 4.0 International License.