Causes of Removal of metallic hardware employed in oral and maxillofacial surgery - A cross sectional survey.
Keywords:
Maxillofacial Bony Plates, Metallic Hardware, Plate Removal
Abstract
Objective: This study was conducted to evaluate the causes of removal of titanium bone plates used routinely in maxillofacial region. Study Design: Cross Sectional Survey. Setting: Department of Oral & Maxillofacial Surgery, Armed Forces Institute of Dentistry (AFID). Period: January 2016 to June 2018. Material & Methods: A total of 60 patients previously operated in maxillofacial surgery department with open reduction and internal fixation with tru-dynamic titanium plating system in Operation Theater, who reported with complaints due to metallic hardware were included in the study. Data was collected regarding age, gender, time between plate insertion and removal, cause and site of plate removal was also recorded for each patient. Data was analyzed using SPSS 23.0 version. Results: During the study period, 60 patients underwent titanium plate removal out of which 34 were male and 26 were females. Most common cause of plate removal was infection followed by non-union. Majority of plates (43.3%) were removed within 6 to 12 months of insertion. Mandible was found to be the most common site of plate removal (60%). Gender was significantly associated with causes while age was associated with cause, site and duration of removing the metallic plates (P-Value, < 0.05). Conclusion: Removal of symptomatic titanium plates is likely to occur within first year of insertion. Infection was identified as the most common cause for removing the metallic plates.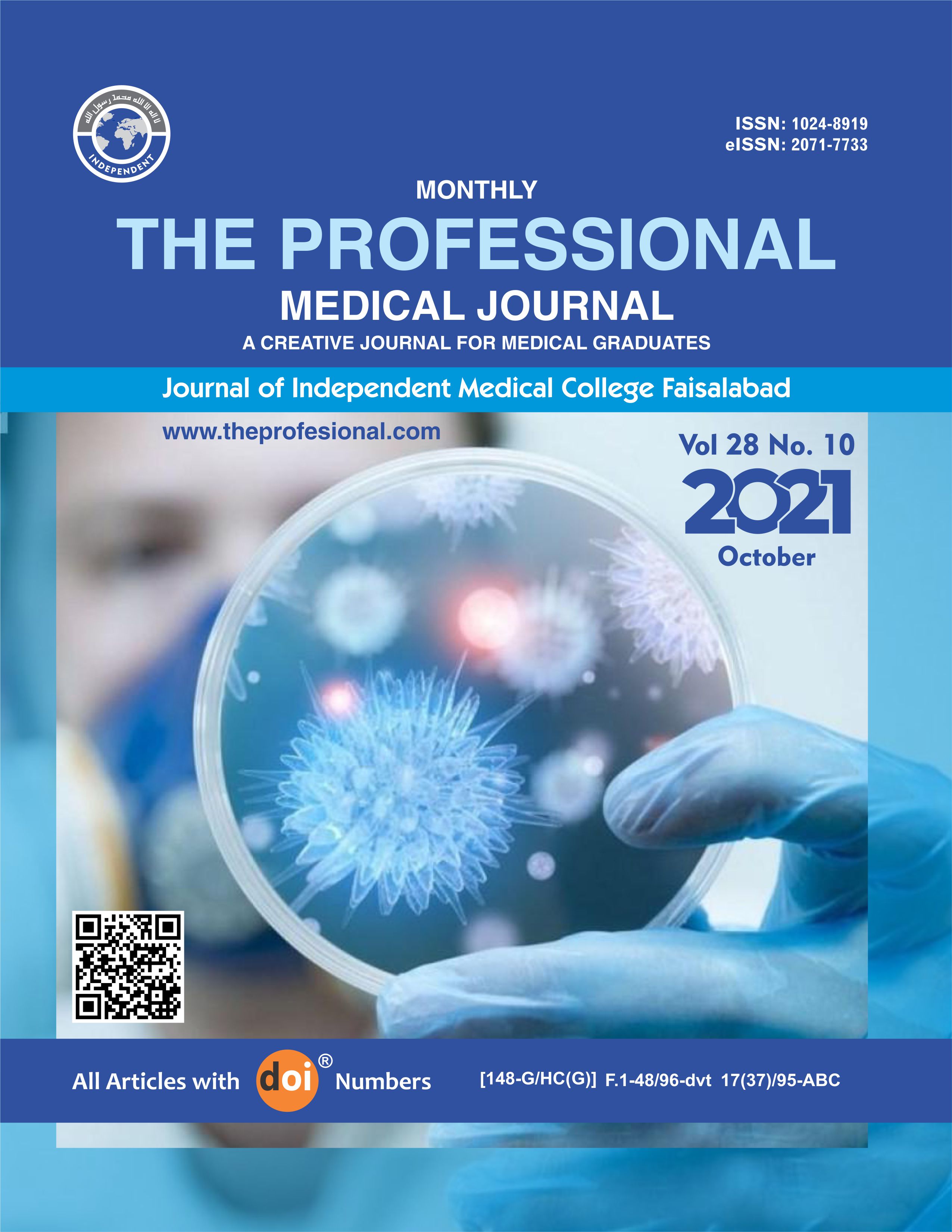 Downloads
License
Copyright (c) 2021 The Professional Medical Journal
This work is licensed under a Creative Commons Attribution-NonCommercial 4.0 International License.