Clinical spectrum and outcome of extra-pulmonary tuberculosis in children.
Keywords:
Anti-Tuberculous Therapy, Disseminated Tuberculosis, Extra-Pulmonary Tuberculosis
Abstract
Objective: To determine the types, clinical spectrum and outcome of Extra-Pulmonary Tuberculosis (EPTB) in children admitted at a tertiary care hospital. Study Design: Cross Sectional study. Setting: The Children's Hospital and The Institute of Child Health, Lahore. Period: May to December 2019. Material & Methods: A total of 63 patients diagnosed with EPTB aged 1 month to 16 years were included. All patients with lung involvement were excluded from the study. Anti-tuberculous therapy (ATT) was started in all patients and outcome was monitored during the hospital stay. Results: In a total of 63 patients, mean age was 9.03+3.1 years. There were 35 (55.5%) male and 28 (44.4%) female. The mean duration of symptoms at the time of presentation was 5.93+2.4 months. The common sites of EPTB were meninges noted in 17(26.9%), pleural in 13 (20.6%), abdominal in 12 (19.04%), lymph nodes in 11 (17.4%), disseminated in 6 (9.52%) and bone and joints in 4 (6.34%) patients. The most common systemic complaints were fever in 58 (92.06%), weight loss in 48 (76.1%) and anorexia in 45 (71.4%). After treatment, fifty-four patients improved and discharged while 9 (14.2%) patients died. Conclusion: The commonest sites of EPTB were meninges, pleural, abdomen and lymph nodes. Fever, weight loss and anorexia were the most frequent systemic complaints. Most of the patients recovered while the most common cause of mortality was tuberculous meningitis.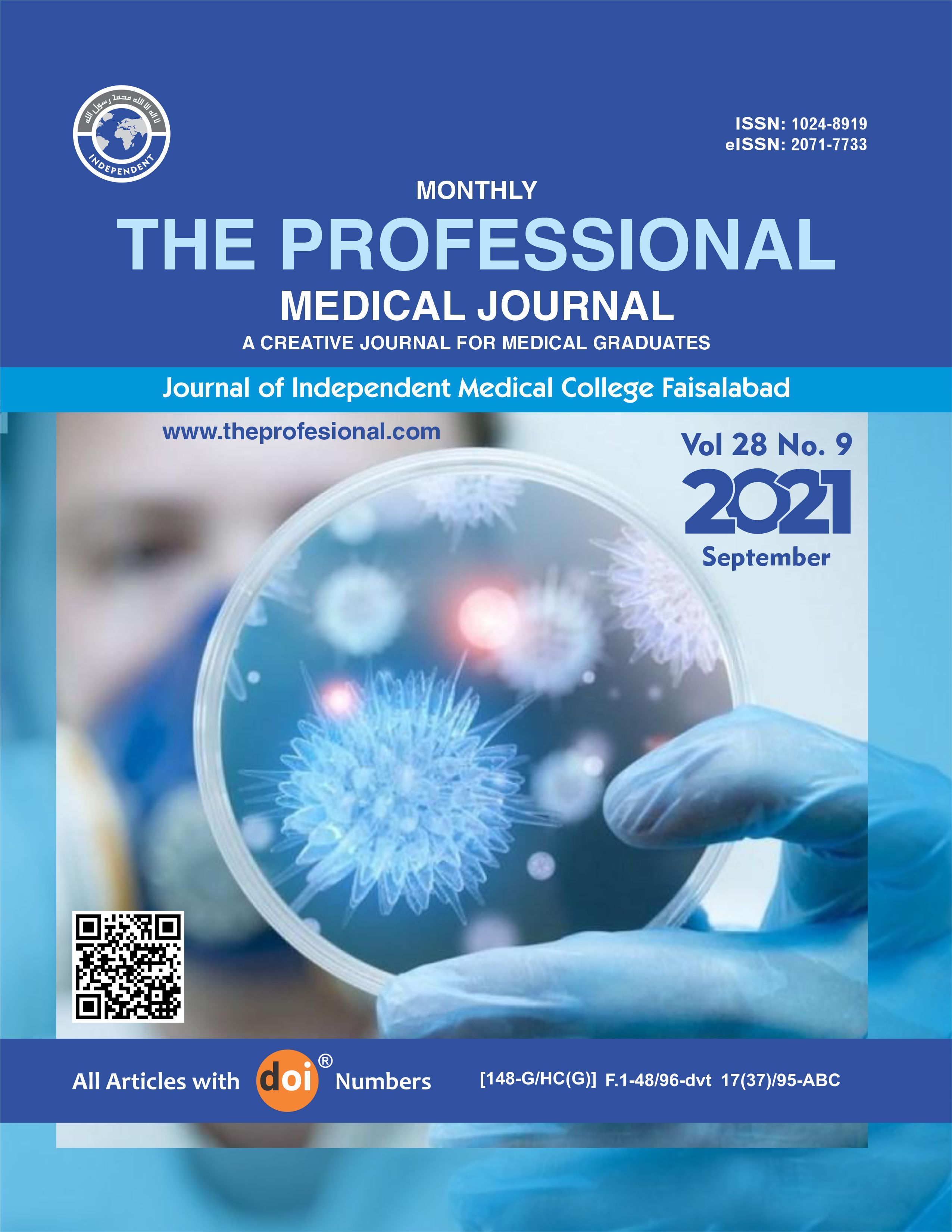 Downloads
License
Copyright (c) 2021 The Professional Medical Journal
This work is licensed under a Creative Commons Attribution-NonCommercial 4.0 International License.