Effect of toxic gases on human erythrocytes: Spectrophotometric analysis.
Keywords:
Erythrocytes, Gases, Spectrophotometer, Spectrum, Toxic
Abstract
Objective: This study was carried out to analyze the influence of various toxic gases on human erythrocytes. Study Design: Experimental study. Setting: Department of Chemistry, Hazara University, Mansehra. Period: January 2017 to June 2017. Material & Methods: Erythrocytes were isolated and prepared by the standard method from blood samples. The standard absorption spectra were recorded in the range of 200-800nm using double‐beam UV‐visible spectrophotometer. Gases were prepared in laboratory as per given protocol. Erythrocyte samples were treated with prepared gases. Absorbance of the samples was recorded. The spectrum of these treated samples was compared with the standard spectra of erythrocytes to check for any changes that might have occurred. Results: It was observed that erythrocytes exhibiteded altered behavior with each gas which was confirmed by shift in peaks in UV/Visible spectra. Absorption maxima were shifted from higher to lower wavelengths and this shift was more pronounced in case of Chlorine, Carbon Monoxide and Carbon Dioxide as compared to that observed in case of Hydrogen Sulfide, Sulfur dioxide, and Nitrogen Dioxide. Conclusion: This study showed that erythrocytes exhibit different behavior with different gases as evident by the shift of peaks in UV/Visible spectra. The absorption maxima were shifted towards lower wavelengths suggesting that these gases do exert an effect on human erythrocytes. The lipid site of erythrocytes, being sensitive for absorbing various atmospheric gases, caused deformation of original erythrocyte structure and altered their activity. This type of interaction of red blood cells with such external species, particularly the donor-acceptor case, caused damage to erythrocytes and in turn, decreased their number.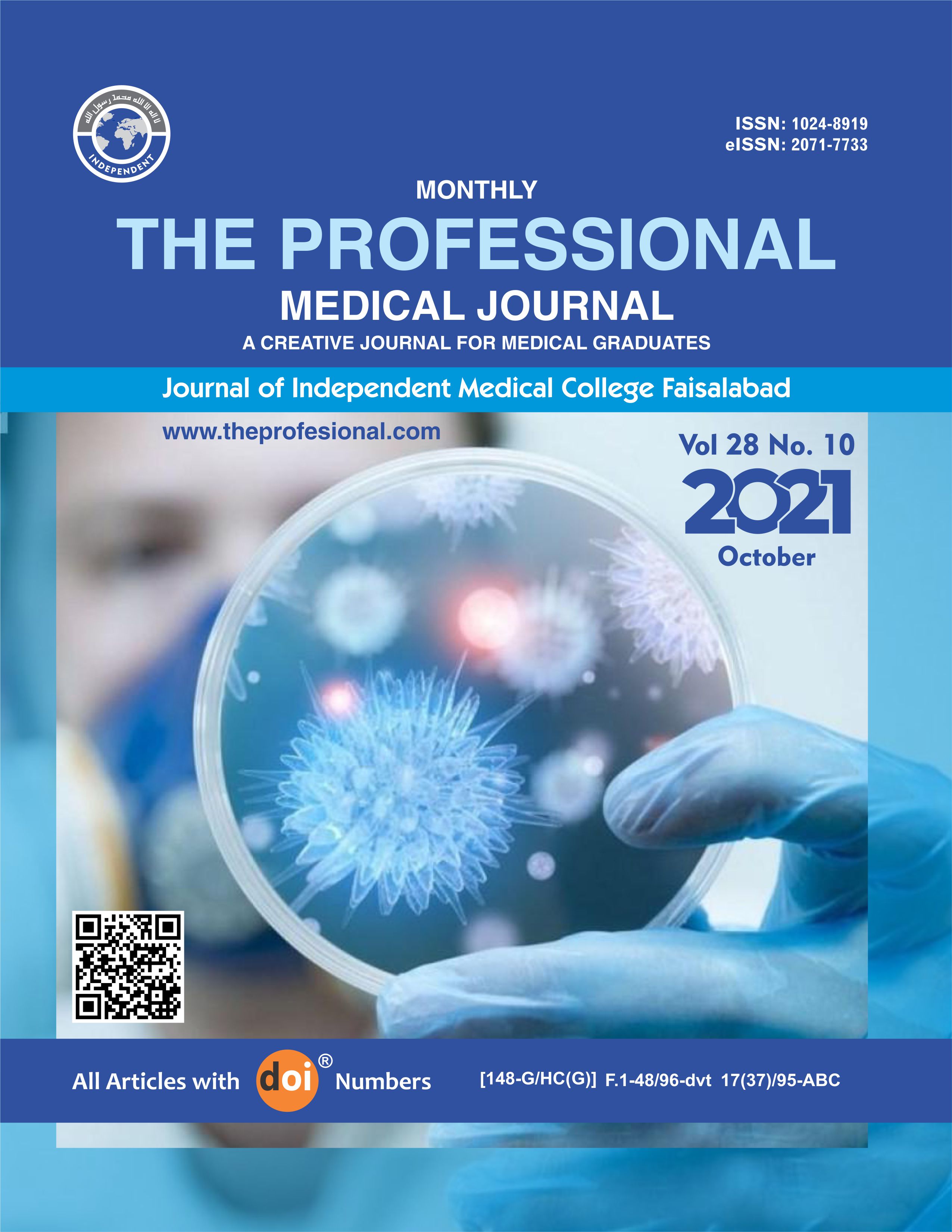 Downloads
License
Copyright (c) 2021 The Professional Medical Journal
This work is licensed under a Creative Commons Attribution-NonCommercial 4.0 International License.