Intravenous analgesia versus thoracic epidural catheterization in moderately severe pancreatitis: A randomized controlled trial in a tertiary care health facility.
Keywords:
Catheterization, Intravenous Analgesia, Pancreatitis, Paracetamol
Abstract
Objective: In this study we evaluated the two most commonly used methods for pain relief in acute pancreatitis i.e. epidural analgesia and I/V analgesia and compared the results. Study Design: Randomized Controlled Clinical Trial. Setting: Surgical Unit-1 of Holy Family Hospital, Rawalpindi. Period: June 2019 to June 2020. Material & Methods: Patients presenting with acute pancreatitis with moderate severity were divided into groups A and B. In group A patients, epidural catheter was passed at T9-T10 level epidural space and they received 0.125% Bupivacaine injection every 4 hours, while group B patients received combination analgesia in the form of IV tramadol 100mg TDS and IV Toradol 30mg BD. Pain was assessed by using visual analog scale (VAS) at 12 hour intervals. Rescue analgesia, in the form of IV paracetamol 1g given in the case of >7 VAS score was also recorded. Results: Total 100 patients were included according to the inclusion criteria of the study. Patients were randomly divided into two groups; Group A (Epidural) and group B (intravenous). Mean age (years) in the study was 42.39+11.21 whereas there were 37 male and 63 female patients who were included in the study. In our study, mean pain score in group A was 3.16+1.23 which was significantly lower than group B (5.42+1.01), p-value < 0.0001. There was a single mortality in the study. 6 patient's required ventilatory support due to respiratory complications, 5 in group B and 1 in group A. Conclusion: Epidural analgesia is superior to I/V analgesics in pain management of moderately severe pancreatitis and it also reduces respiratory morbidity in these patients.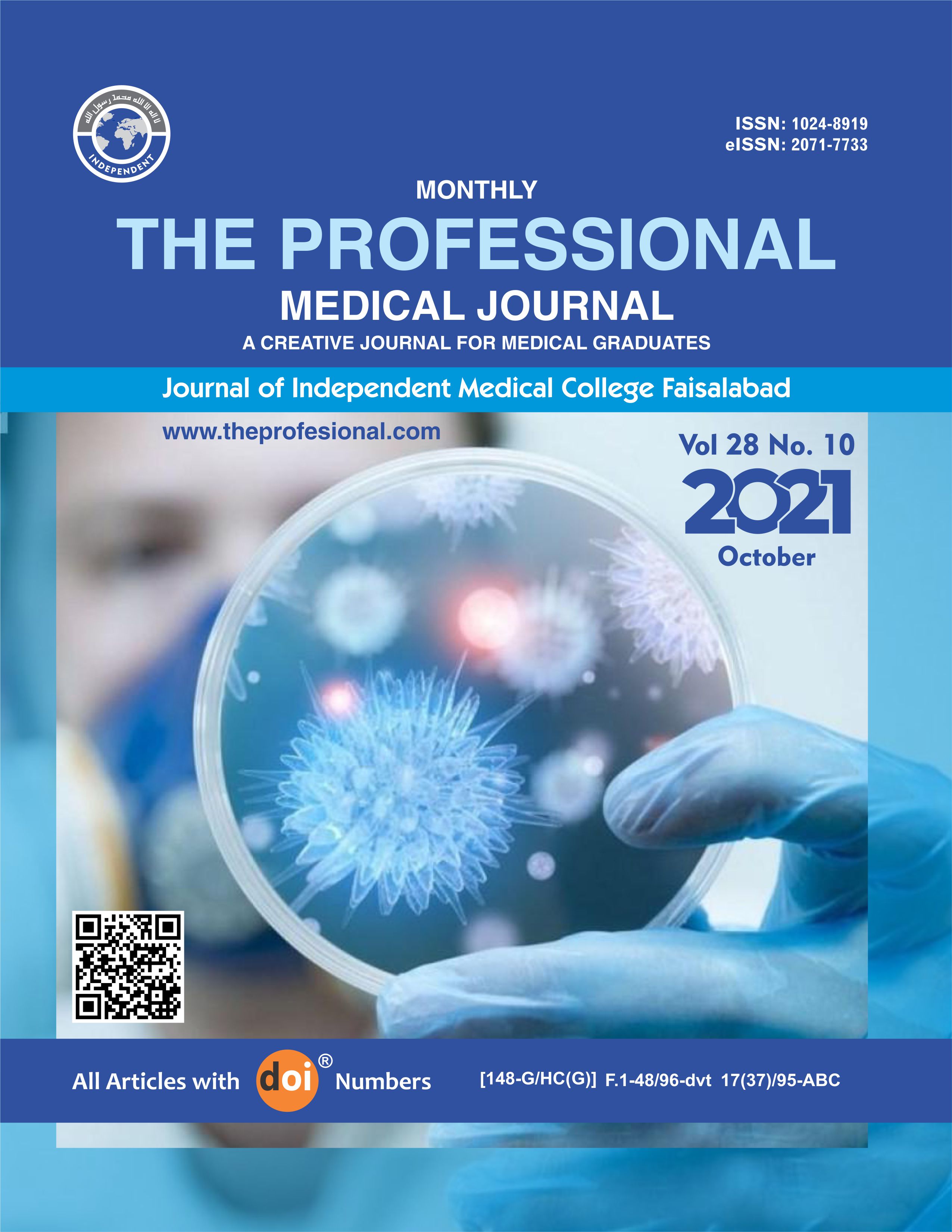 Downloads
License
Copyright (c) 2021 The Professional Medical Journal
This work is licensed under a Creative Commons Attribution-NonCommercial 4.0 International License.