Frequency of severe liver cirrhosis and hepatocellular carcinoma caused by hepatitis B and C in a tertiary care hospital.
Keywords:
Age, Chronic Liver Disease, Hepatitis B and C, Hepatocellular Carcinoma, Tertiary Care Hospital
Abstract
Objective: Liver cirrhosis is one of the most widespread diseases in underdeveloped countries. Study Design: Cross Sectional Study. Setting: Nishtar Hospital Multan. Period: January 2020 to March 2020. Material & Methods: Three hundred and ninety seven of admitted patients were included and patients falling in class C of child Turcotte Pugh classification of liver cirrhosis were determined. Prevalence of hepatocellular carcinoma and cause of cirrhosis in these patients was also determined. Statistical Package for Social Sciences (SPSS 23.0) was used for analysis. Results: Out of 397 patients included in the study 25.4 % or 101 had class C cirrhosis, out of these 5.94% or 6 also had hepatocellular carcinoma. With respect to age of initial diagnosis of the illness 25.7% or 26 were in age interval 31-40yrs, 24.8% or 25 in interval 41-50yrs, 20.8% or 21 in interval 51-60 yrs. Hepatitis C (67.3%) comes out to be the commonest of all causes of chronic liver disease, followed by other causes (18.8%), then both hepatitis C and B (7.9%) and hepatitis B alone (5.9%). Conclusion: Our study concluded that approximately 1 in every 4 patients admitted in medical wards of a tertiary care hospital have severe liver cirrhosis caused most commonly by hepatitis C with most common age of presentation being 30-60 years. Approximately 6 out of 100 of these patients also had hepatocellular carcinoma.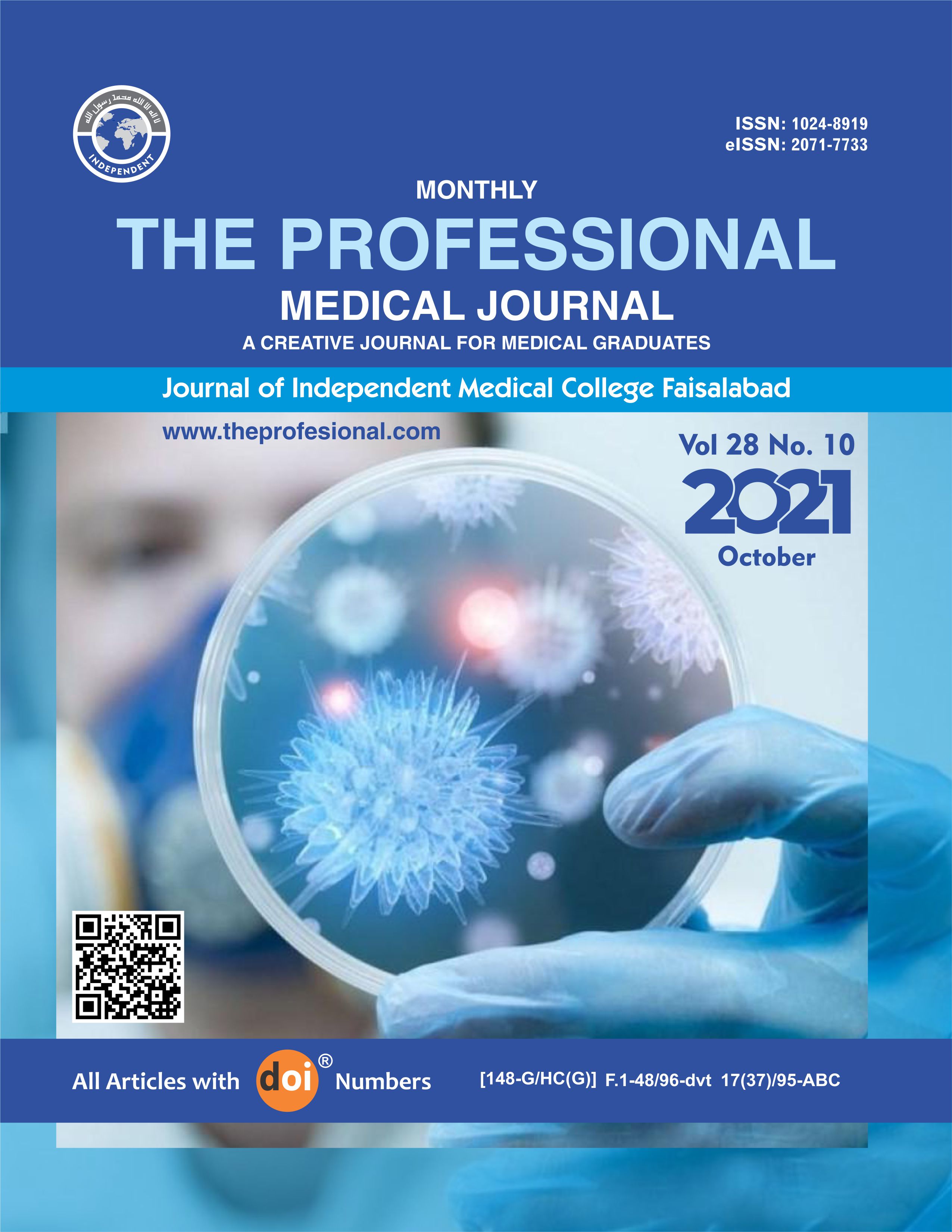 Downloads
License
Copyright (c) 2021 The Professional Medical Journal
This work is licensed under a Creative Commons Attribution-NonCommercial 4.0 International License.