Frequency of etiological causes of intestinal obstruction in children.
Keywords:
Adhesions, Causes, Intussusception, Intestinal Obstruction, Pattern, Round Worms
Abstract
Objective: To determine the frequency of the various etiological causes of intestinal obstruction in children. Study Design: Descriptive Cross Sectional Study. Setting: Department of Pediatric Surgery, National Institute of Child Health, Karachi. Period: January 2017 to December 2017. Material & Methods: Total 143 patients included in study with age range d from 1 month to 12 years. All patients who fulfilled the inclusion criteria and visited to Outpatient/ Emergency department of National Institute of Child health, Karachi were included in the study. Patients followed diagnosis of intestinal obstruction were operated and the outcome variables (Round worms, adhesions, intussusceptions and obstructed hernia) were noted. Data was entered and analyzed through SPSS version: 22. Mean and standard deviation were calculated for age and duration of symptoms. Results: The Mean ± SD of age was 35.41±27.664 months. Out of 143 patients 118 (82.5%) were male and 25 (17.5%) were female. Etiological causes i.e. Adhesive bowel obstruction 59(41.3%), intussusception 51 (35.7%), obstructed hernia and worm infestation was found in 23 (16.1%) and 10(7%) children. Conclusion: It is to be concluded that pattern of intestinal obstruction varies at different age groups in terms of etiology. Adhesion was found to be most common cause of intestinal followed by intussusceptions. However, there is a need to conduct more studies using large sample size with multiple study sites in Pakistan to validate these results.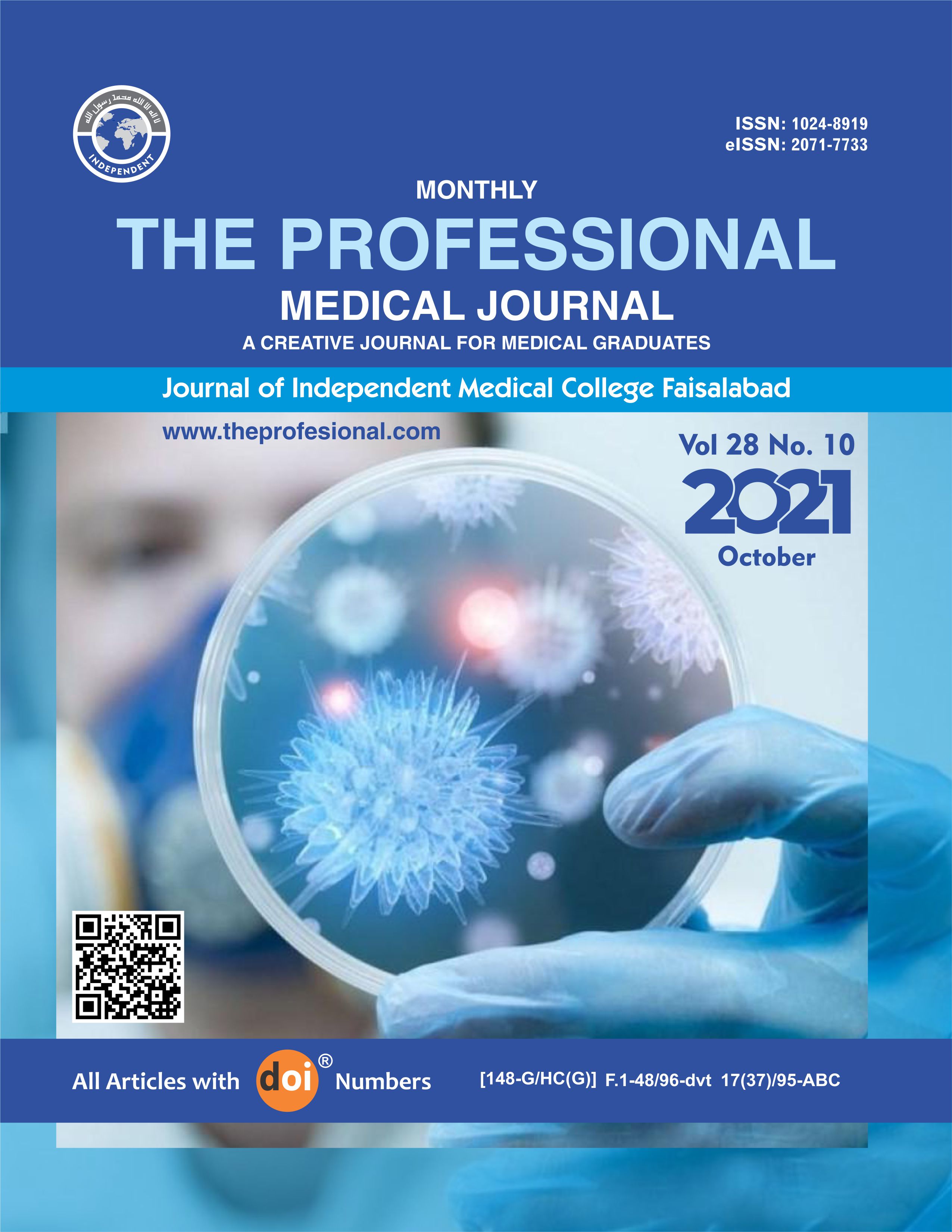 Downloads
License
Copyright (c) 2021 The Professional Medical Journal
This work is licensed under a Creative Commons Attribution-NonCommercial 4.0 International License.