Post-operative surgical site infection among general surgery patients: Rate and risk factors.
Keywords:
Post-operative Care, Surgical Site Infection, Type of Surgery
Abstract
Objectives: High rate of post-surgical infections are reported with scanty effort for controlling them. The objectives were to evaluate frequency of surgical site infections in patients undergoing general surgery. Study Design: Cross Sectional Observational Study. Setting: Naz Memorial Hospital. Period: March 2019 to March 2020. Material & Methods: This study was conducted in general surgery ward for 1 year. All patients over 18 years admitted in surgery ward either as elective or emergency case were included while patients having any wound infection, operated in other hospital or diabetic foot and all those operated for incision and drainage of abscess were excluded. All patients that were operated during the study period were followed for any wound infection development till one qAqmonth. SPSS was used for data entry and analysis keeping p-value of <0.05 as significant. Results: 75 from 200 patients developed surgical site infection, 46 (61.3%) were operated in emergency. Among 24 contaminated surgeries type, 70.8% were reported having SSI (p-0.05) while from 28 dirty types of surgeries 78.6% of patients had a SSI (p-0.03). 25% were anemic, 21% diabetic while (20%) were reported to be hypertensive, 13 (17%) gave positive history of smoking while 12 (16%) were obese. Conclusion: Higher proportion of surgical site infection was observed in patients undergoing contaminated and dirty type of surgeries. Most patients with SSI were operated in emergency setting and anemia and diabetes were the most common risk factor reported in the infected patients.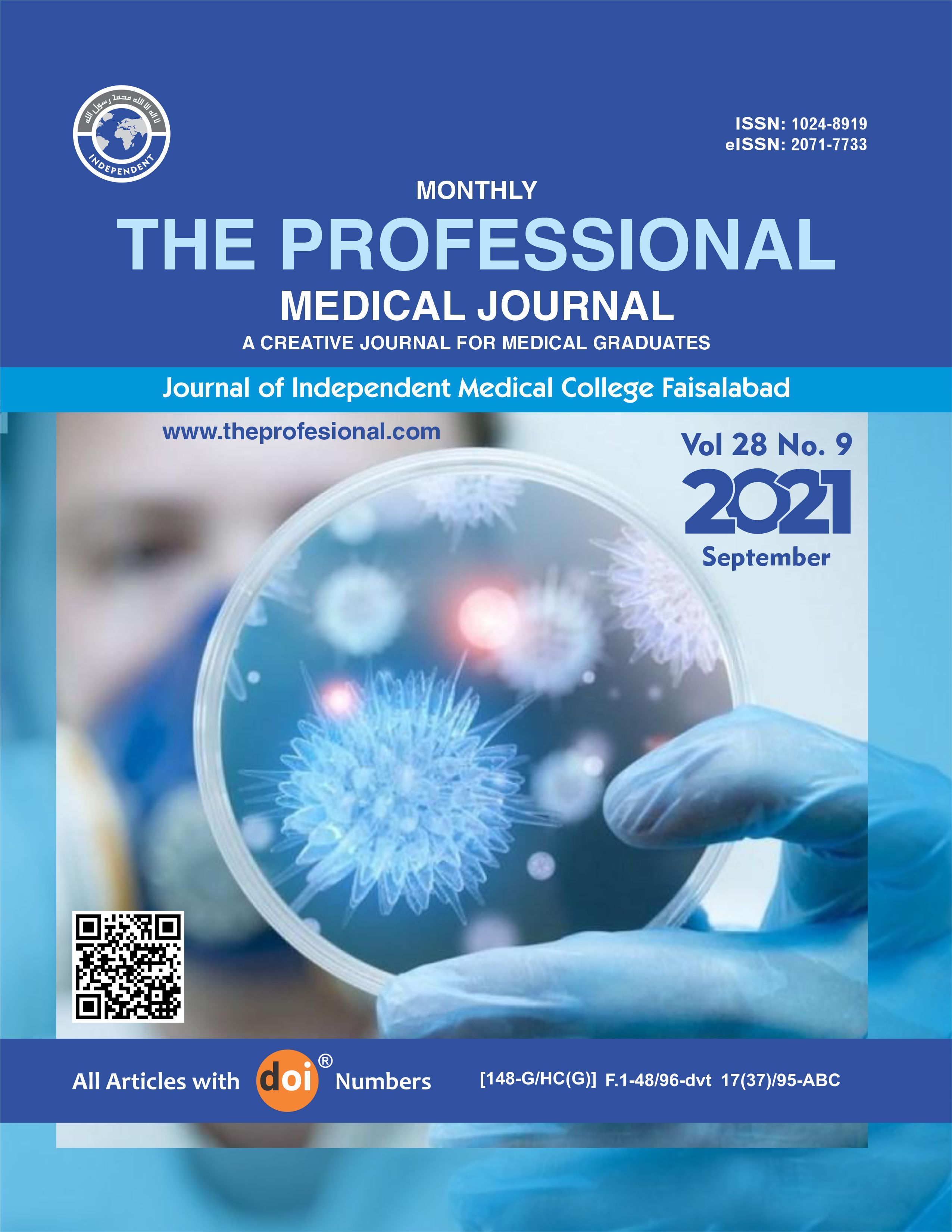 Downloads
License
Copyright (c) 2021 The Professional Medical Journal
This work is licensed under a Creative Commons Attribution-NonCommercial 4.0 International License.