EXTRACORPOREAL SHOCK WAVE LITHOTRIPSY;
EXPLORATION OF INFUNDIBULOPELVIC ANGLE AS PREDICTIVE FACTOR FOR STONE CLEARANCE IN LOWER CALYCEAL CALCULI TREATMENT
Keywords:
Renal Stone,, Extracorporeal Shock Wave Lithotripsy ESWL,, Stone Clearance,, Infundibulopelvic Angle (IPA).
Abstract
Background: Urolithiasis is a common ailment that costs billions of Dollars every
year. Recurrent urinary tract obstruction or urolithiasis may stimulate the fibrogenic flow, which
is responsible for the definite functional loss of renal parenchyma. In the few past years, the
management of urinary calculi undertook a remarkable modification. Open surgery for stones
is nearly replaced by minimal or non-invasive operative procedures like ureterorenoscopy,
percutaneous nephrolitholapaxy and extracorporeal shock wave lithotripsy (ESWL). Study
Design: Randomized Controlled Trial. Setting: Department of Urology Services Hospital
Lahore. Duration of Study: 1st January -30th December 2016. Material and methods: The
comparative study of 60 cases through Non probability convenient sampling was conducted to
evaluate the outcome of ESWL in patients with single lithiasis of lower pole calyx with different
infundibulopelvic angles as measured on pre-treatment IVU. Results: The mean age of all the
patients was 33.70±10.72 years. Out of 60 Patients 32(53.3%) were males while 28(46.7%)
were females with 1.14 male to female ratio. In group A, the mean LIPA was 78.83±4.71o and
in group B, was 100.53±5.73o. The overall mean LIPA of the patients was 89.68±12.11o.Stone
clearance was noted in 39 (65%) patients. 15 patients (38.46%) and 24 patients (61.53%) in
group A and B respectively. p-value=0.015. After ESWL stone clearance was more in patients
having IPA ≥ 90°as compared to IPA 70-90o. Conclusion: Stone clearance is significantly
higher with IPA>90o as compared to IPA70-90o.In future now we are able to implement the use
of IPA>90o instead of using <90o that is more successful in achieving stone clearance.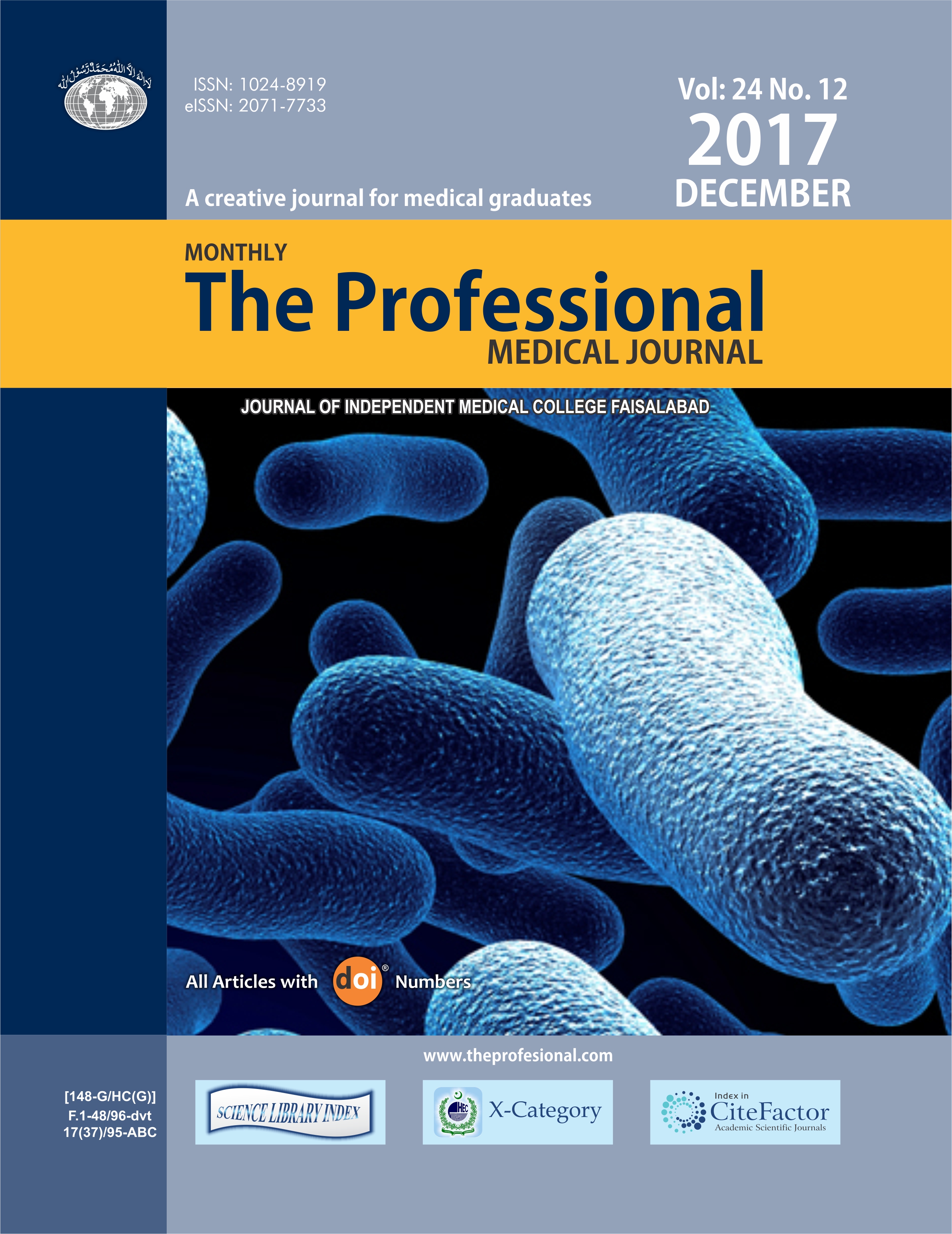 Downloads