Gall Bladder Retrieval through Umbilical versus Epigastric Port in Conventional Four Ports Laparoscopic Cholecystectomy.
Keywords:
Cholecystitis, Cholecystectomy, Gall Bladder, Laparoscopic, Pain, Umbilical, Xiphoid
Abstract
Introduction: Laparoscopic cholecystectomy has become the gold standard treatment for symptomatic gall stone disease all over the world. In laparoscopic cholecystectomy gall bladder is traditionally removed through umbilical port. In this approach surgeon has to change his position and telescope has to be changed in xiphoid port. Another approach to remove the gallbladder is through 10mm xiphoid port without changing position of telescope and surgeon. Both approaches are compared for their pros and cons regarding post-operative pain at site of removal. Study Design: Randomized control study. Setting: Department of surgery of Allama Iqbal medical college/ Jinnah hospital Lahore. Period: August 2017 to February 2018. Material & Methods: To compare mean post-operative pain in gall bladder retrieval through umbilical versus xiphoid port in four ports laparoscopic cholecystectomy for acute cholecystitis. Patient were divided in two equal groups with first group had their gall bladder retrieved through umbilical port while the other underwent retrieval through xiphoid port. Standard analgesia was used in both groups and post-operative outcome was noted. Results: A total 70 patient with equal distribution in two groups were enrolled to compare post-operative pain at port site comparing umbilical versus xiphoid process. Mean post-operative pain visual analogue scale (VAS) was as lower (p<0.0001) at 1, 6, 12 & 24 hrs. In umbilical port group as compared to xiphoid port group. Conclusion: Mean post-operative pain in gall bladder retrieval umbilical port give advantage in post-operative period regarding significantly reduced pain when compared with xiphoid port in four ports laparoscopic cholecystectomy for acute cholecystitis in selective cases.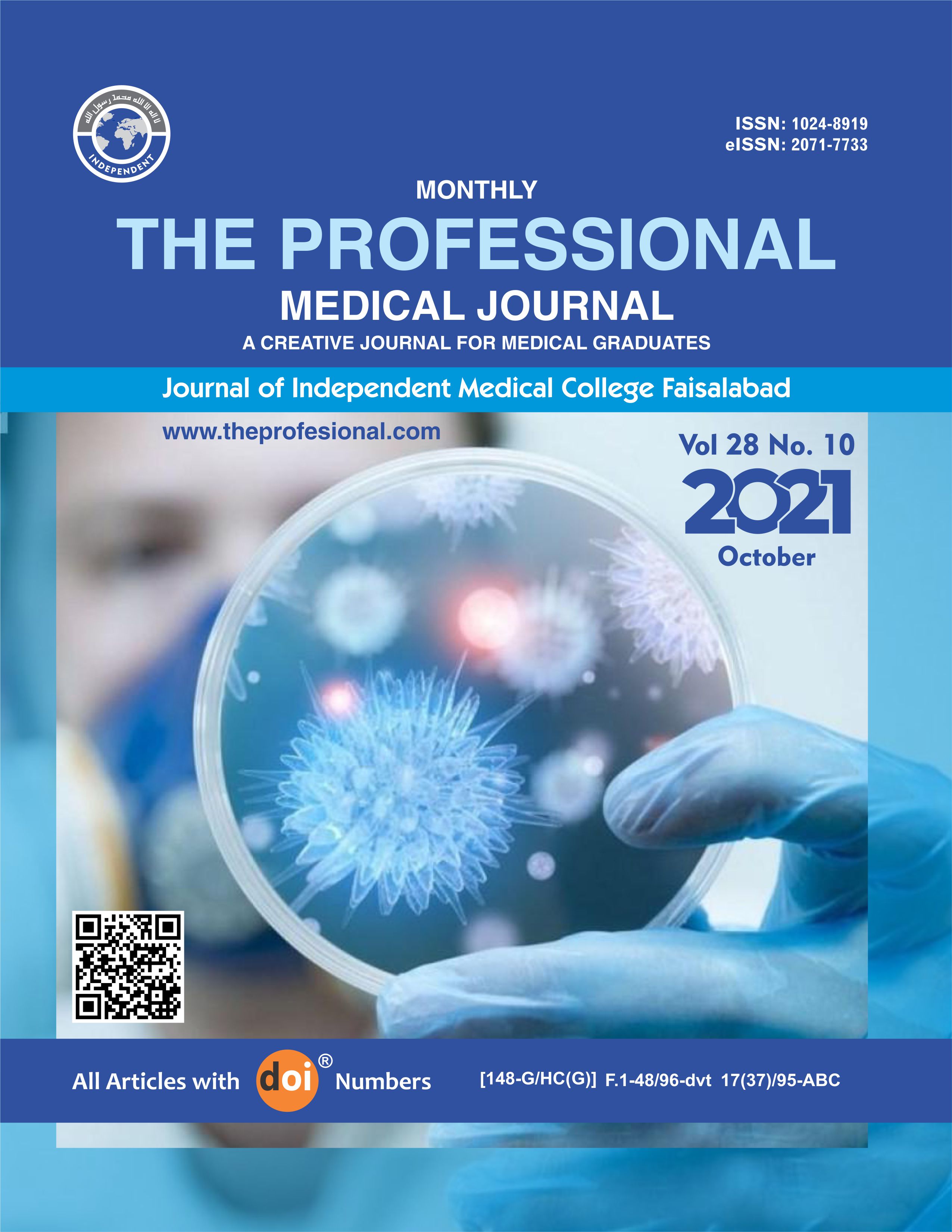 Downloads
License
Copyright (c) 2021 The Professional Medical Journal
This work is licensed under a Creative Commons Attribution-NonCommercial 4.0 International License.