ACUTE ISCHEMIC STROKE
CORRELATION BETWEEN SERUM CALCIUM LEVELS AND SEVERITY OF INFARCT IN PATIENTS.
Keywords:
Acute Ischemic Stroke, Calcium level, Correlation, NIHSS, Severity
Abstract
Objectives: Objective of this study is to assess the correlation between severity
of ischemic stroke on NIHSS and calcium level in patients presented with acute ischemic stroke.
Study Design: Descriptive case series and non-probability purposive sampling technique was
used in this study. Setting: South Medical ward& East Medical Ward, Department of Medicine,
Mayo hospital, Lahore. Period: One year from 5th January 2015 to 4th January 2016. Material &
Methods: Informed consent was taken from all the patients. Patients of both genders between
35-70 years of age were included in this study. Demographic record (name, age, sex, contact)
were also obtained. Then patients were admitted in ward and were followed up there. Meanwhile
no calcium supplement was advised. Then after 72 hours of admission, blood sample were
drawn by using 5cc BD syringe and were sent to the laboratory of the hospital to assess serum
calcium level. NIHSS score after 72 hours of admission were assessed and noted. Pearson
correlation coefficient was calculated to measure the correlation between calcium level and
NIHSS score. P-value≤0.05 were considered as significant. Results: In this present study
the mean age of the patients was noted as 51.47±9.653 years, the male patients were 76%
whereas female patients were 24%. The mean serum calcium level after 72 hours of the patients
was noted as 7.26±1.41 mg/dl, while the man NIHSS was noted as 23.01±10.38.There was
negative and Significant correlation was found between the serum calcium level (mg/dl) after
72 hours and NIHSS after 72 hours of the patients i.e. r=-0.899 (P<0.05). Conclusion: Our
study results showed the negative correlation between the serum calcium level and NIHSS of
ischemic stroke patients which showed that more decrease in calcium level will lead to more
severe condition of stroke.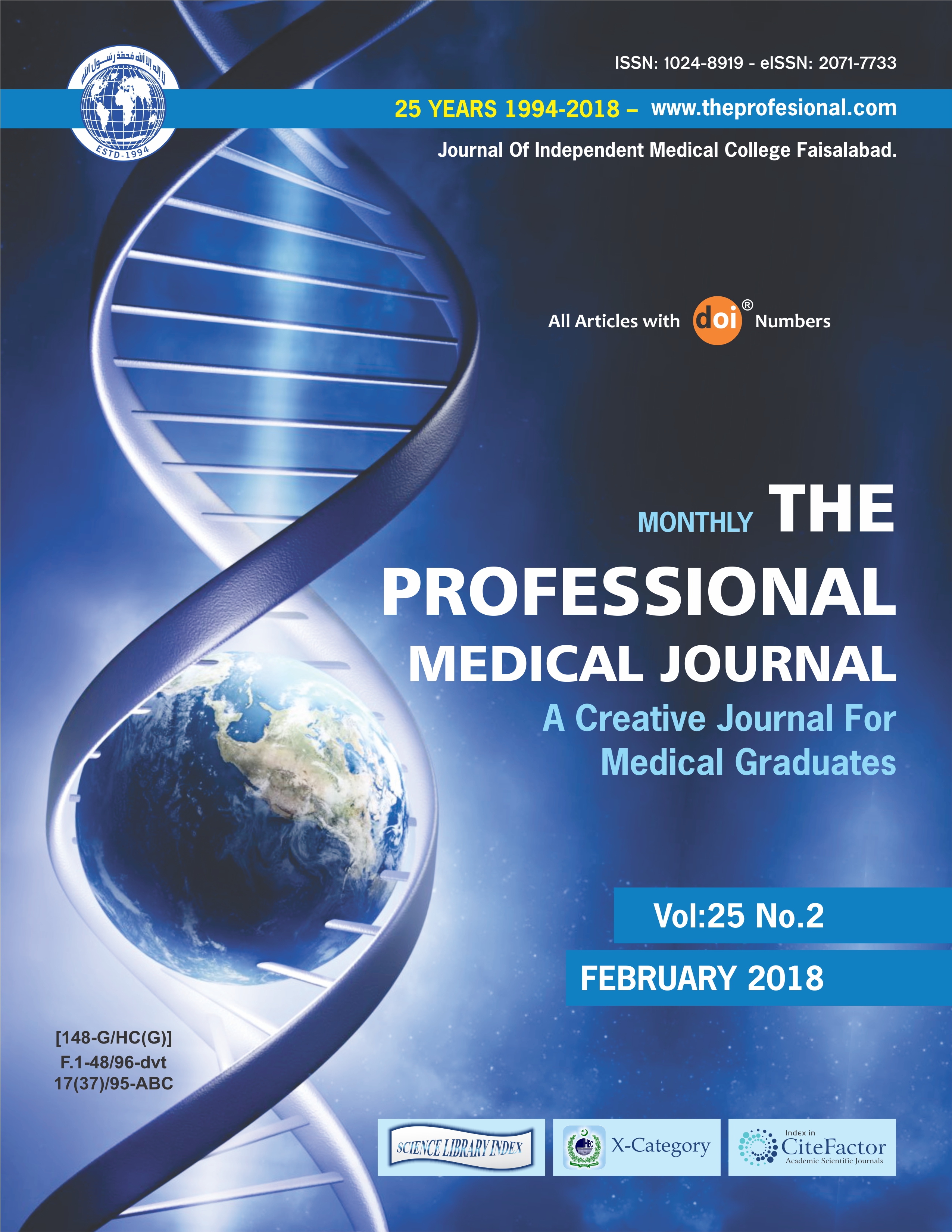 Downloads