CHRONIC LIMB ISCHEMIA
ROLE OF ANKLE-BRACHIAL INDEX (ABI) IN EVALUATION OF PERIPHERAL VASCULAR INTERVENTION IN PATIENTS
Keywords:
Ankle-Brachial Index (ABI), Chronic Limb ischemia, Vascular Lesion, Peripheral Surgery
Abstract
Background: The Ankle brachial index (ABI) measurements are commonly
used inscreening and management of Peripheral Vascular Disease. In recent studies, Ankle
brachial index (ABI) is utilized as a predictor of future atherosclerotic vascular disease and
all-cause mortality. Purpose: The purpose of this study was to investigate utility of pre and
post peripheral vascular intervention ankle-brachial index (ABI) assessmentinpatientswith the
chronic limb ischemia. Study Design: Quasi experimental study. Setting: National Institute
of Cardio-Vascular Disease (NICVD), Karachi, Pakistan. Period: January 2013 to June 2014.
Methodology: The study included 23 patients hospitalized. According to study inclusion/
exclusion criteria, patients of chronic limb ischemia on clinical ground and the vascular lesions
of lower limb according toTrans-Atlantic Inter-Society Consensus (TASC scoreclassification II)
were evaluated and recruited. The lesions were further classified into three types, Aortoilliac,
Femoropopliteal andTibioperoneal. Ankle brachial index (ABI) was classified according to
American Diabetic Association. The study was approved by the ethical committee of NICVD.
Data was analyzed using SPSS 20. Inc. Results: The mean age of the enrolled patients was
57.86±6.56 years. Majority of the patients were male 18(78.3%). The commonly found peripheral
lesion was femoropopliteal in 9(39%), TASC grade A was commonwith 8 (62%) of cases. ABI
score done pre and post procedure showed a significant difference with a (p-value<0.05) and
there was an improvement of ABI scores in all the lesions after peripheral vascular intervention.
Conclusion: The study results concluded that there was animprovement in ABI score after
intervention of peripheral vascular surgery for lower limb segment and recommended its utility
for the assessment in Peripheral Vascular Disease intervention.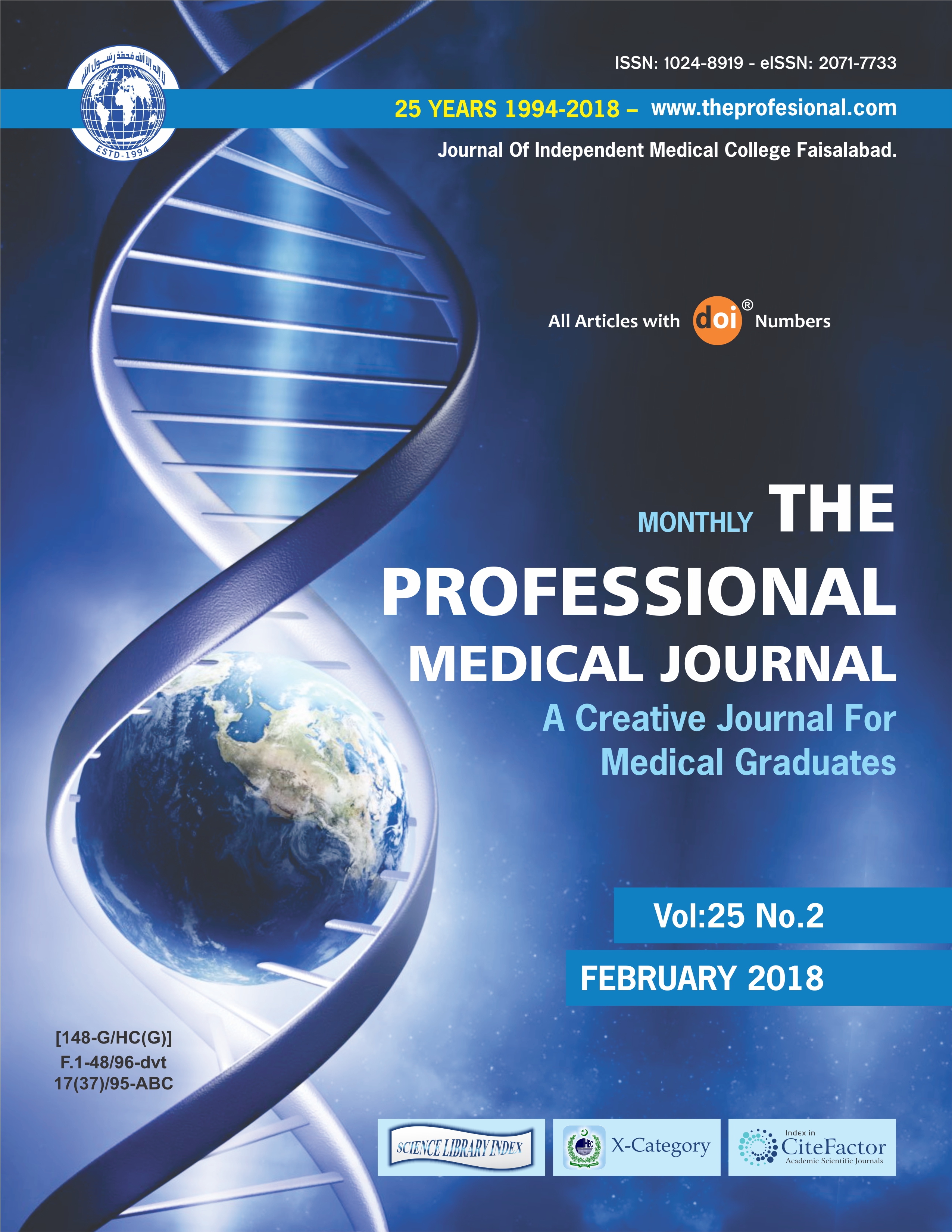 Downloads