CARCINOMA OF CAECUM;
FREQUENCY AND MANAGEMENT STRATEGIES AMONG PATHOLOGIES IN RIGHT ILIAC FOSSA EXCLUDING GYNAECOLOGICAL DISORDERS
Keywords:
Carcinoma of caecum,, Colon cancer / carcinoma,, right iliac fossa mass,, Ileotransverse anastamosis with right hemicolectomy,, acute appendicitis and intestinal obstruction.
Abstract
Objectives: To determine the frequency, clinical presentation and management
strategies for carcinoma of caecum among pathologies in right iliac fossa excluding
gynaecological disorders at Liaquat university hospital Hyderabad / Jamshoro. Study Design:
Cross sectional multi-disciplinary study. Period: Thirty months. Setting: Liaquat University
Hospital Hyderabad / Jamshoro. Patients and Methods: All the patients presented with GI
symptoms, intestinal obstruction, and appendicitis or had mass in the right iliac fossa were
selected and recruited and further evaluated for existence of carcinoma of caecum and
preceded for management strategies. The data was analyzed in SPSS 16 and the frequency
and percentage was calculated and the level of significance was p-value ≤0.05. Results: Total
50 patients were diagnosed as caecum cancer during thirty months study period. The cancer
of caecum was common in older age group. The mean age ± SD for whole population and
male as well as female gender was 67.53±6.98, 66.32±8.75 and 65.34±5.96 and of fifty cases,
thirty two (64%) were males and eighteen (36%) were females respectively. The common
presentation identified was mass in right iliac fossa in 28 patients (p=0.03) while the common
operative procedure performed was ileotransverse anastomosis with right hemicolectomy in 34
patients which is non-significant in relation to age (p=0.7) whereas it was significant in context
to gender (p=0.04) respectively. Conclusion: The common presentations for carcinoma of
caecum detected was right iliac fossa mass while the predominant age, gender and operative
procedure performed were seventy plus years, male gender population and Ileotransverse
anastamosis with right hemicolectomy.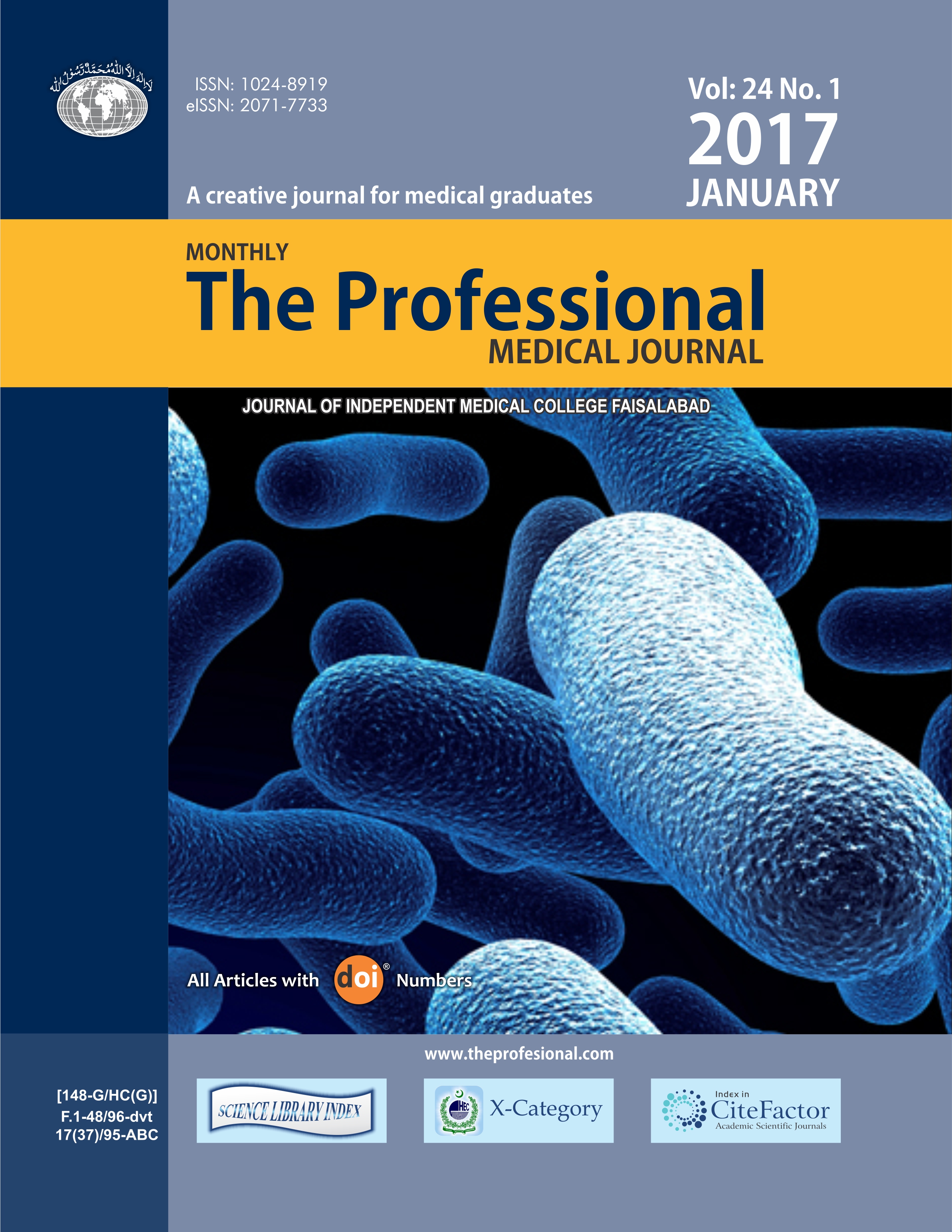 Downloads