RETROGRADE FEMUR NAIL
OUTCOME OF RETROGRADE FEMUR NAIL, IS IT IMPLANT OF CHOICE FOR DISTAL SHAFT OF FEMUR FRACTURE?
Keywords:
Fractures, Distal Diaphyseal Femur, Retrograde Nail, Functional Outcome, Range of Motion
Abstract
Background: Retrograde nailing for fracture of distal shaft of femur is common
procedure but data about post-operative functional outcome in terms of knee range of motion,
union and pain at 6 weeks, 6 months and 1 year follow-up is lacking. Objectives: The main
aim of this study was to determine post-operative functional outcome after performing nailing
in a retrograde fashion for distal disphyseal femoral fracture in terms of knee range of motion,
pain and union at 6 weeks, 6 months and at least 1 year follow-up. Study Design: Descriptive
case series. Setting: Orthopedics and Spine Centre, Ghurki Trust Hospital Lahore, Pakistan.
Period: 1st July 2015 to Dec. 2016. Materials and Methodology: 140 patients of either sex and
age with fractures of distal disphyseal femoral fracture and were operated using retrograde
nailing were included in the study. All the data were analyzed using SPSS 17.0 version.
Results: 140 patients were included with mean age of 31.81± 7.117 ranged from 16 to 75
years of age.97 patients (69.3%) were male and remaining 43 patients (30.7%) were female.
Pain was significantly decrease in all patients on Visual analogue scale. Mean union were 32.3
± 5.3 weeks, Knee range of motion after last follow up were more than 1200 in 126 patients.
Conclusion: Retrograde Nailing for distal diaphyseal fractures is an excellent option with good
functional outcome. It should always be considered while managing such fractures.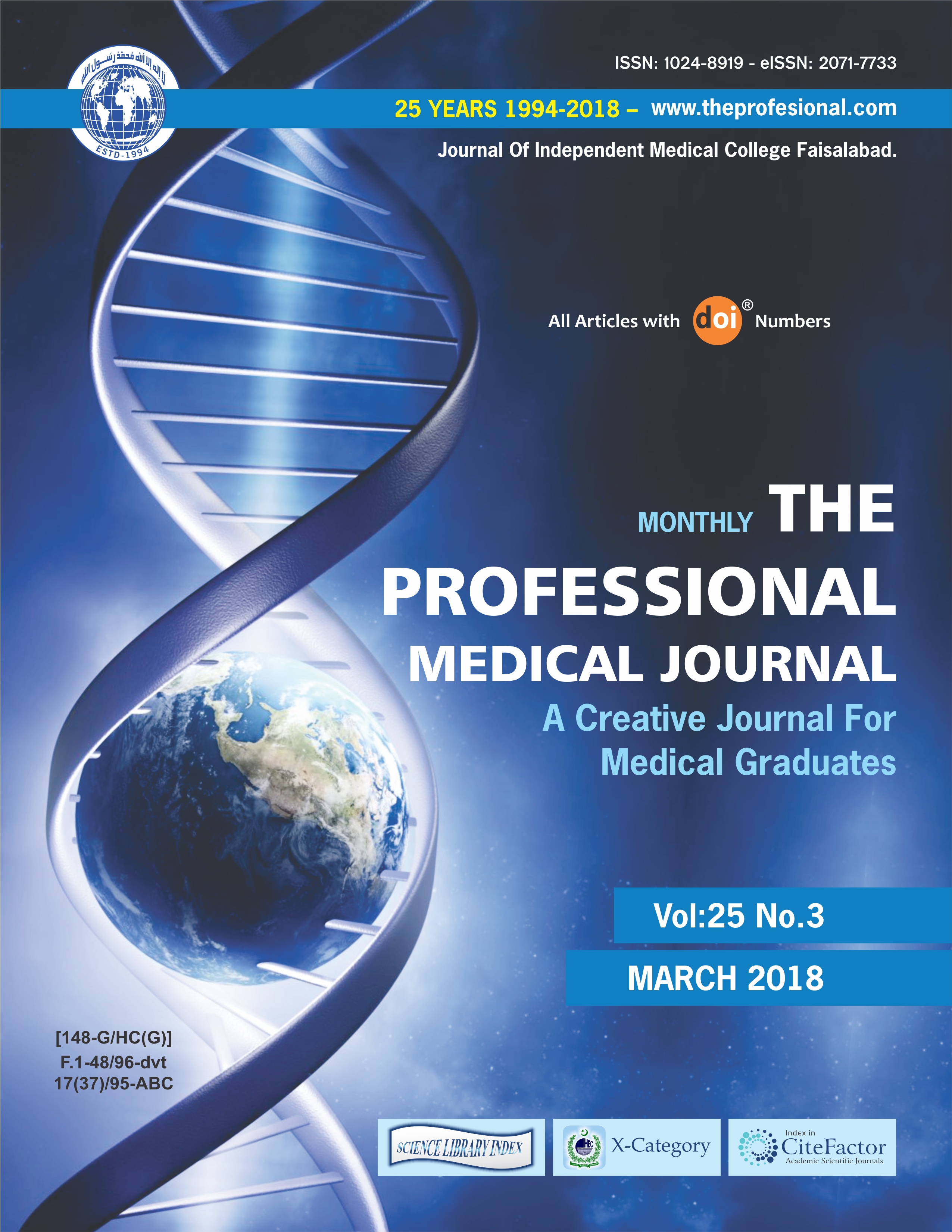 Downloads