COLORECTAL CANCER
PATTERN AND DISTRIBUTION OF COLORECTAL CANCER. A RETROSPECTIVE HOSPITAL BASED STUDY AT CMCH & LINAR, LARKANA
Keywords:
Colorectal Cancer, Risk Factors, Changing Pattern
Abstract
Objectives: To determine the changing clinicopathological pattern and
distribution of colorectal cancer in our setup, highlighting future planning and designing for
its prevention. Study Design: A retrospective study. Place and Duration: Department of
Surgery, Chandka Medical College and LINAR, Larkana from January 2012 to December 2016.
Methodology: All the diagnosed cases of colorectal cancer were included in our study. The
records analyzed for age, gender, clinical presentation, socioeconomic status, risk factors,
histopathological variable types, site of distribution, tumor grading & staging based on TNM.
The method of treatment & surgical procedures performed, were also recorded. Statistics data
was entered and analyzed by SPSS version 17. Results: 363 diagnosed cases of colorectal
cancer were registered from January, 2012 to December, 2016. 211 (58. %) were male and 147
(40.9%) female, with ratio of 1.3:1. Age ranged between 17 to 88 years with mean age of 56 +
12. 217 patients were > 50 years, while 146 < 50 years. The predominant subsite distribution
was found in rectum & recto sigmoid junction in 205 cases (56.49%). Majority of cases belong to
low socioeconomic class with Duke's B and C stages (45.73%. and 39.11%). The mortality rate
was observed in 12.9%, however 30% of patients were not returned for follow-up. Conclusion:
Colorectal cancer is shown rising higher up and vated cancer was found increasing in incidence
among young population < 50 years. There is a need of early detection, to reduce the number
of CRC in future.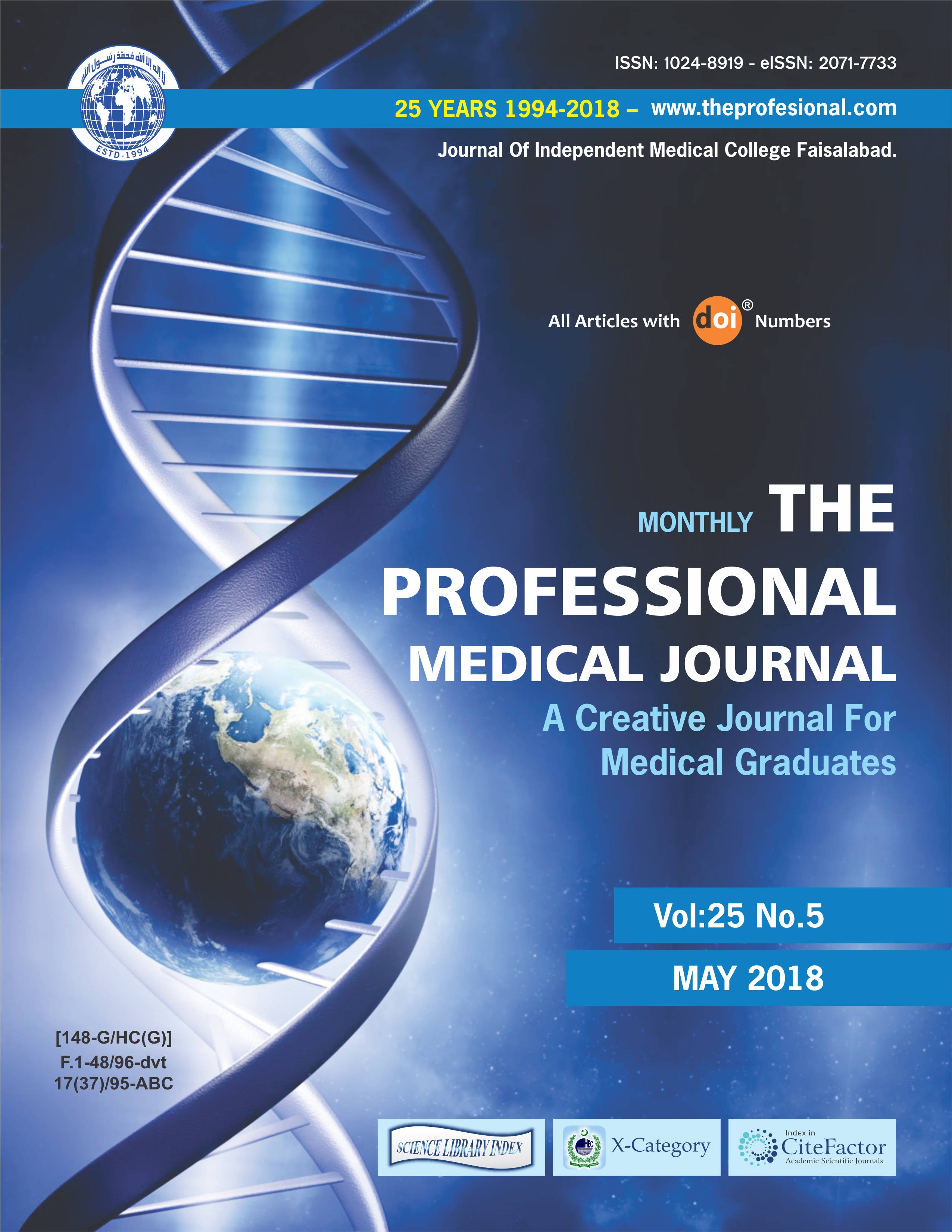 Downloads