CHRONIC HEPATITIS C
THYROID DYSFUNCTION IN CHRONIC HEPATITIS C PATIENTS TREATED WITH PEG INTERFERON AND RIBAVIRIN
Keywords:
Pegylated Interferon (PEG-IFN), Ribavirin, Chronic Hepatitis C (CHC), Thyroid Dysfunction (TD)
Abstract
Background: Pegylated interferon (PEG-IFN) plus ribavirin combination was the
main treatment for chronic hepatitis C (CHC) patients in Pakistan till 2016. An important side
effect of this combination was thyroid dysfunction (TD). Objectives: To evaluate thyroid function
abnormalities in Chronic Hepatitis C patients treated with PEG-IFN and ribavirin. Study Design:
Descriptive study. Setting: Outpatient Department of Gastroenterology and Hepatology,
Nishtar Hospital Multan. Period: January to September 2016. Methods: Using non-probability
consecutive sampling. There were 337 CHC patients enrolled in the study who fulfilled the
inclusion criteria. Patients were given PEG-IFN plus ribavirin combination therapy and at 12
weeks their serum Thyroid Stimulating Hormone (TSH) levels were measured to identify any TD.
Data was entered and analyzed by computer program SPSS-17. Results: Of these 337 cases,
211 (62.6%) were male patients while 126 (37.4%) were female patients. Mean age of our cases
was noted to be 30.92 ± 5.84 years. Mean disease duration was 16.19 ± 6.42 months. In our
study 98 patients (29.1%) had genotype 2 while 239 (70.9%) had genotype 3. TD was seen
in 28 (8.3%) patients, 70% of whom were females. Equal number of cases of Hypothyroidism
and hyperthyroidism were seen (14 each). Hypothyroidism was significantly associated with
relatively older age group patients and genotype 3 (p value <0.05). A statistically significant
association (p<0.05) was found between hyperthyroidism and genotype 3, female gender and
younger patients. Conclusion: PEG-IFN plus ribavirin combination therapy induces TD among
patients with CHC with equal incidence of hypothyroidism and hyperthyroidism.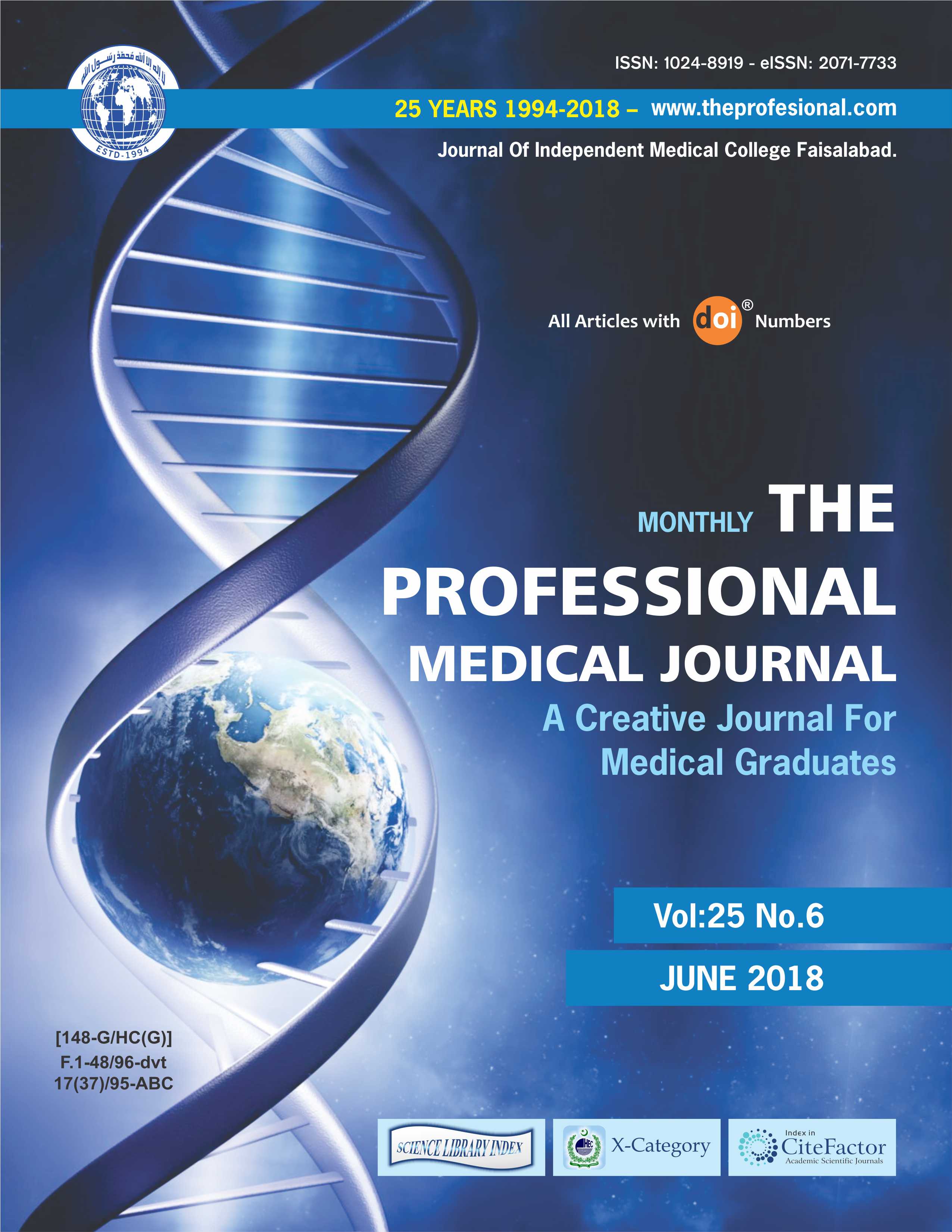 Downloads