β-THALASSEMIA MAJOR
FREQUENCY OF SHORT STATURE IN CHILDREN WITH β-THALASSEMIA MAJOR RECEIVING MULTIPLE BLOOD TRANSFUSION
Keywords:
β-Thalassemia Major, Multiple Transfusion, Short Stature, Growth and Development
Abstract
Background: Â-thalassemia is a common single genetic disorder in Pakistan
with about 8% gene frequency and roughly 10 million carriers. Growth impairment leading
to short stature in thalassemic patients is an important cause of morbidity. Objectives: To
determine the frequency of short stature in children with muti-transfused â-Thalassemia major.
Study Design: Descriptive cross sectional study. Place and Duration of Study: Pediatric
Department, Allied Hospital, Faisalabad from December 2015 to May 2016. Patient & Methods:
Ninety multi-transfused â-thalassemia major patients diagnosed by hemoglobin electrophoresis
between 06 to 10 years of age of either gender were included. Patients with â-thalassemia
major with a concomitant chronic illness like congenital heart disease, tuberculosis, celiac
disease and immunodeficiency and those with familial short stature as determined by history
and mid-parental height were excluded. Results: Out of 90 cases, 56.67% (n=51) were
between 6-8 years of age while 43.33% (n=39) between 9-10 years of age, mean + SD was
7.85+1.50 years, 51.11%(n=46) male and 48.89%(n=44) were females. Frequency of short
stature in children with â-thalassemia major receiving multiple transfusion was 41.11% (n=37)
while 58.89% (n=53) had normal stature. Conclusion: The frequency of short stature is high
among â-thalassemic multi-transfused children. It is recommended that every patient with
â-Thalassemia major, should be sort out for short stature. However, surveillance of growth and
development in these patients is important.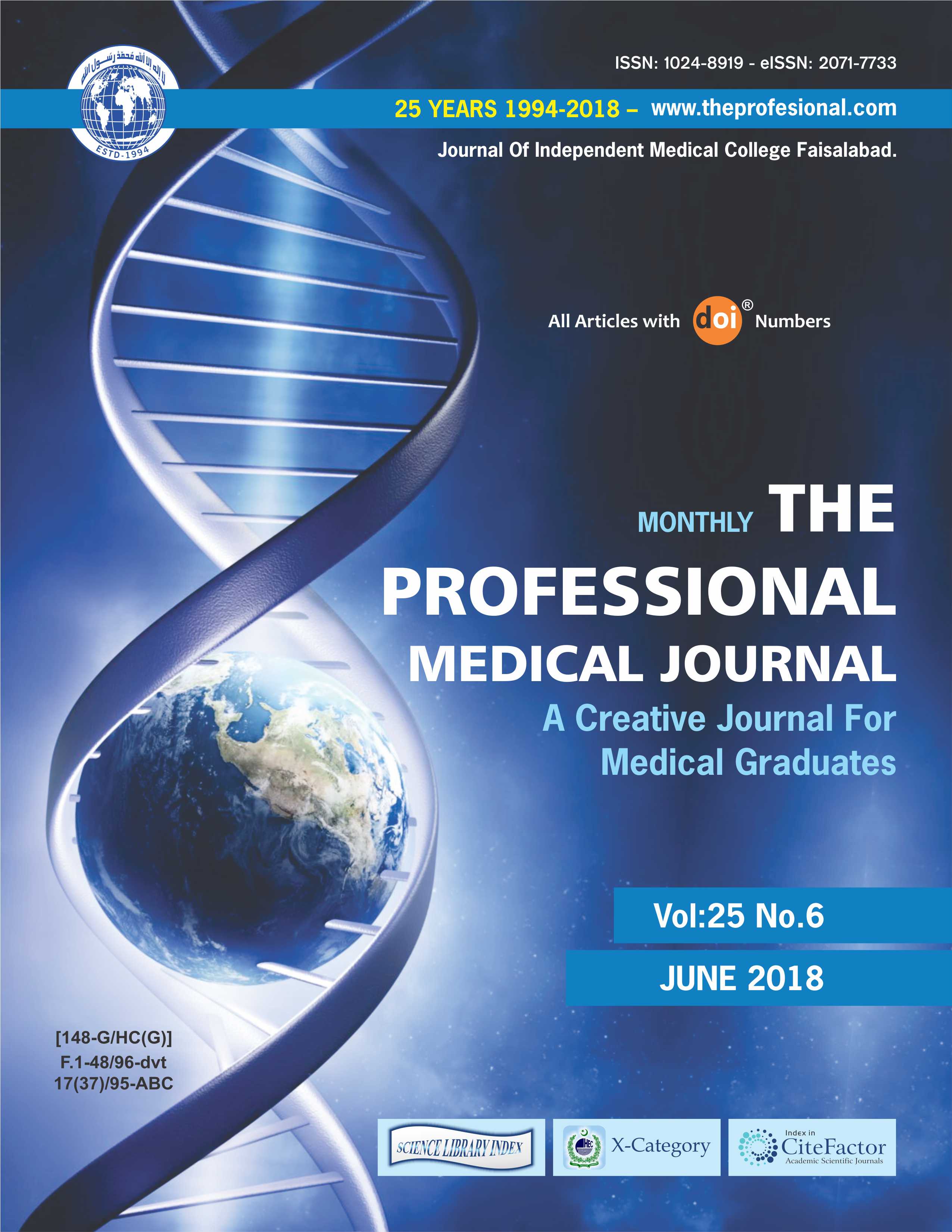 Downloads