THYROID DISORDERS;
PREVALENCE OF THYROID DISORDERS IN PRIMARY INFERTILE WOMEN OF REPRODUCTIVE AGE.
Keywords:
fT3 = Free triiodothyronine, fT4 = Free Thyroxine, TSH= Thyroid Stimulating Hormone, Primary Infertility
Abstract
Infertility has been considered as a worldwide global health issue. It is a human nature that every couple wants to have children so that the relationship can become stronger. Defect in thyroid hormone levels is one of the factors which can lead to reproductive cycle disorders and thus infertility results. Objectives: The purpose of current study was to investigate the levels of thyroid hormones in primary infertile and fertile females in order to evaluate the prevalence of thyroid disordsers. Study Design: Case control study. Place of Study: Outdoor of gynecology department of Madinah Teaching Hospital, Faisalabad. Duration of Study: 6 months from July to December 2017. Material and Methods: The study enrolled total 91 females of reproductive age 20-35 years which included 45 primary infertile females and 46 fertile females. They were divided into two groups. Group I: case/primary infertile women group (n= 45) and Group II: control /fertile females group (n= 46). Data was collected by taking history and clinical examination. Hormonal profile including fT3, fT4 and TSH was done by means of chemiluminescentimmunoassay. Results were analyzed by using SPSS version 20. Results: Most of the infertile females were euthyroid and hyperthyroidism was the most common thyroid disorder. The prevalence of hypothyroidism and hyperthyroidism was about 9.3% and 26.7% respectively. The p-value showed the non-significant difference in the levels of fT3, fT4 and TSH between primary infertile and fertile females.Significant positive correlation between fT3 and fT4 while non-significant negative correlation was observed between fT3 & TSH and fT4& TSH in primary infertile females. Conclusion: Infertile females with menstrual irregularities should be advised thyroid profile in order to avoid other unnecessary investigations. Evaluation of thyroid status in the infertile couple is not only important but also easy because its treatment is very simple and often has revocable effects on subfertility.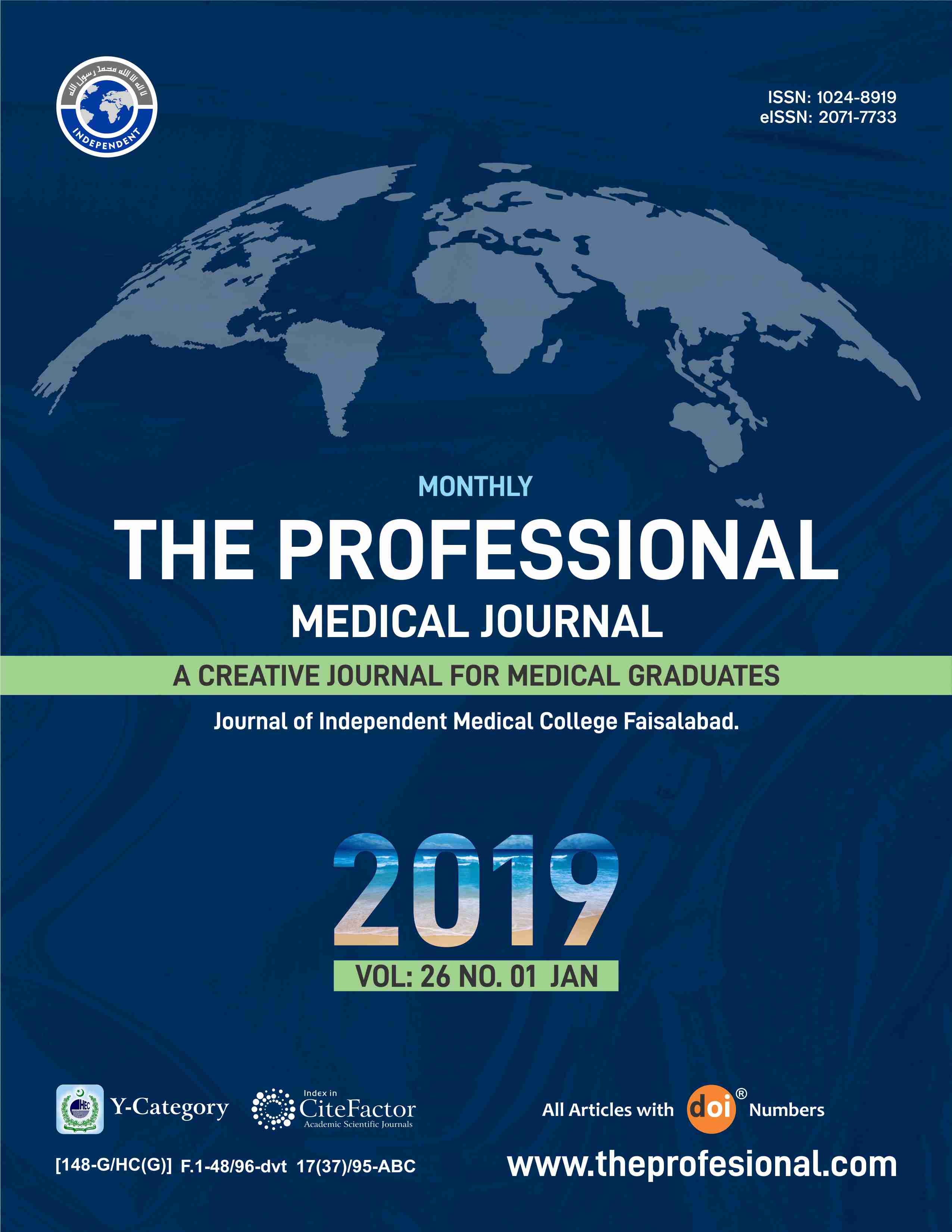 Downloads