PERIODONTAL STATUS
PERIODONTAL STATUS OF β THALASSEMIC PATIENTS IN POPULATION OF KARACHI PAKISTAN.
Keywords:
Thalassemia, Periodontal health, Karachi, Pakistan
Abstract
Thalassemia is a worldwide disease. 5-8% of Pakistani population (approx. 8–10 millions) are carrying thalassemia genes. It causes various abnormalities in different organs of patients. In Pakistan (to the best of our knowledge) no research work on oral and maxillofacial manifestation has been carried out, therefore present study was under taken. Setting: Abbasi Shaheed Hospital Karachi with collaboration of Husaini Institute of Blood Diseases Karachi, Fatimid Foundation and National institute of Oral Diseases Karachi Pakistan. Period: 2 years June 2013 to June 2015. Objectives: To assess the prevalence of periodontal disease and compare with age in thalassemia patient. Study Design: The sample consisted of 200 patients with Thalassemia Major, 120 males and 80 females aged 5 to 35years, with the mean age18.1. The sample was divided into three subgroups according to age. Clinical examination were carried out to assess the prevalence of change statistical differences in frequencies of percentage between the three groups. Aims of study: The aim of this study was to evaluate the frequency of periodontal status of Thalassemic patients and correlate with age from population of Karachi. Methods and Materials: 200 diagnosed β – thalassemia major patients, were randomly
selected form the Patients who were registered for their treatment. Their clinical examination and percentage of recorded feature were calculated and cross tabulated with age and (Ramfjords PDI Index) were used for evaluation of periodontitis and result were deduced. Results: The
most prominent features recorded were periodontitis in 82.5 normal patients were 17.5, Mild periodontitis 45.5% %; Moderate periodontitis 30 %; Severe periodontitis 7%. Conclusion: The increase in severity of Periodontistis increases with age and duration, necessitate regular surveillance and counselling in order to reassure the patient, reduce Periodontitis in thalassemia patients and improve the overall condition and life style of Patients.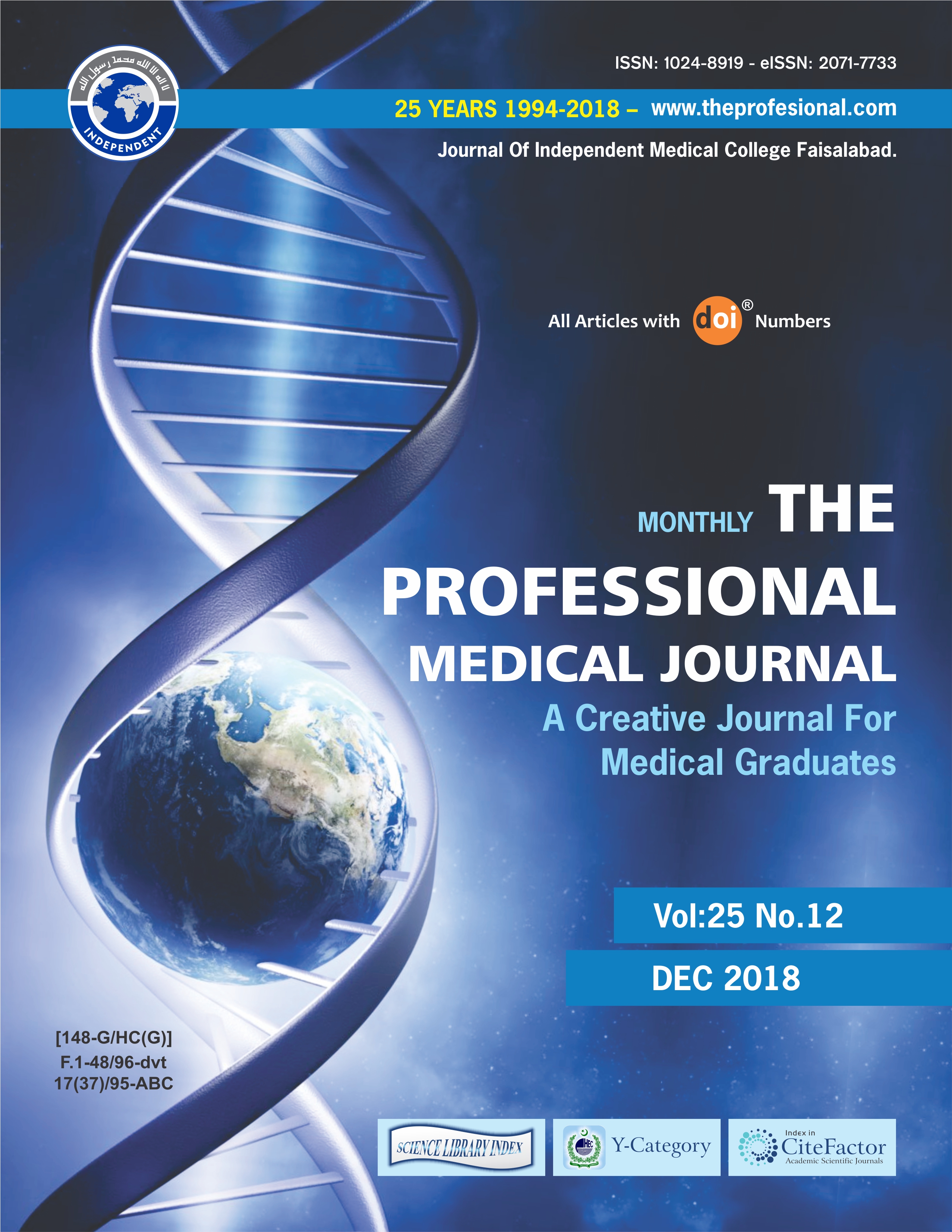 Downloads