DIABETES MELLITUS
FREQUENCY OF VITAMIN D DEFICIENCY IN TYPE I DIABETES MELLITUS.
Keywords:
Type I Diabetes Mellitus, Pancreatic Beta Cells, Vitamin D Deficiency, Immunomodulatory, Antiproliferative, Autoimmune
Abstract
Background: Type I diabetes mellitus is a chronic illness in which autoimmune destruction of pancreatic beta cells results in the body's inability to produce insulin. Vitamin D has several important roles regarding bone health however, recent studies suggest that Vitamin D3 (the active form of Vitamin D) has potent antiproliferative and immunomodulatory properties which has linked it to many autoimmune disease including Type I Diabetes Melltius. Vitamin D deficiency (serum levels less than 50 nmol/l) has a negative influence on insulin secretion in patients with Type I Diabetes Mellitus, thereby suggesting a role for vitamin D3 in the pathogenesis of Type I Diabetes Mellitus. Vitamin D deficiency is an increasingly recognized comorbidity in patients with Type I diabetes mellitus. We aim to determine the frequency of vitamin D deficiency in Type I Diabetes Mellitus in Pakistani population. Objectives: The objective of the study was to determine frequency of Vitamin D deficiency in patients having
Type I Diabetes Mellitus in Pakistani Population. Study Design: Cross-sectional study. Setting: The study was conducted in Diabetes Management Center & Endocrinology Unit (DMC & EU) at Services Hospital Lahore. Period: From 20th May to 19th November (6 months). Materials and Methods: 200 patients having Type I Diabetes Mellitus presenting to Diabetic Management Center were recruited by non-probability purposive sampling. Informed consent was taken. Pro forma was filled by a skilled interviewer and blood sample for vitamin D levels was drawn. Data was entered in the pro forma given at the end and was analyzed in SPSS. Results: Of the 200 subjects 125 were males and 75 were females. Of the males 85.6% and females 88% were vitamin D deficient. The frequency of vitamin D deficiency in newly diagnosed Type I Diabetics is 86.5%. In this study it was seen that higher HbA1c levels are significantly associated with Vitamin D deficiency. Conclusions: These results conclude that vitamin D deficiency is significantly frequent at the onset of Type I Diabetes Mellitus . So vitamin D levels should be measured in all Type I diabetics on their first presentation to the hospital especially those with higher HbA1c levels and vitamin D should be replaced in deficient patients. Further prospective
studies should be done to evaluate Vitamin D3 as a factor in managing glycemic control.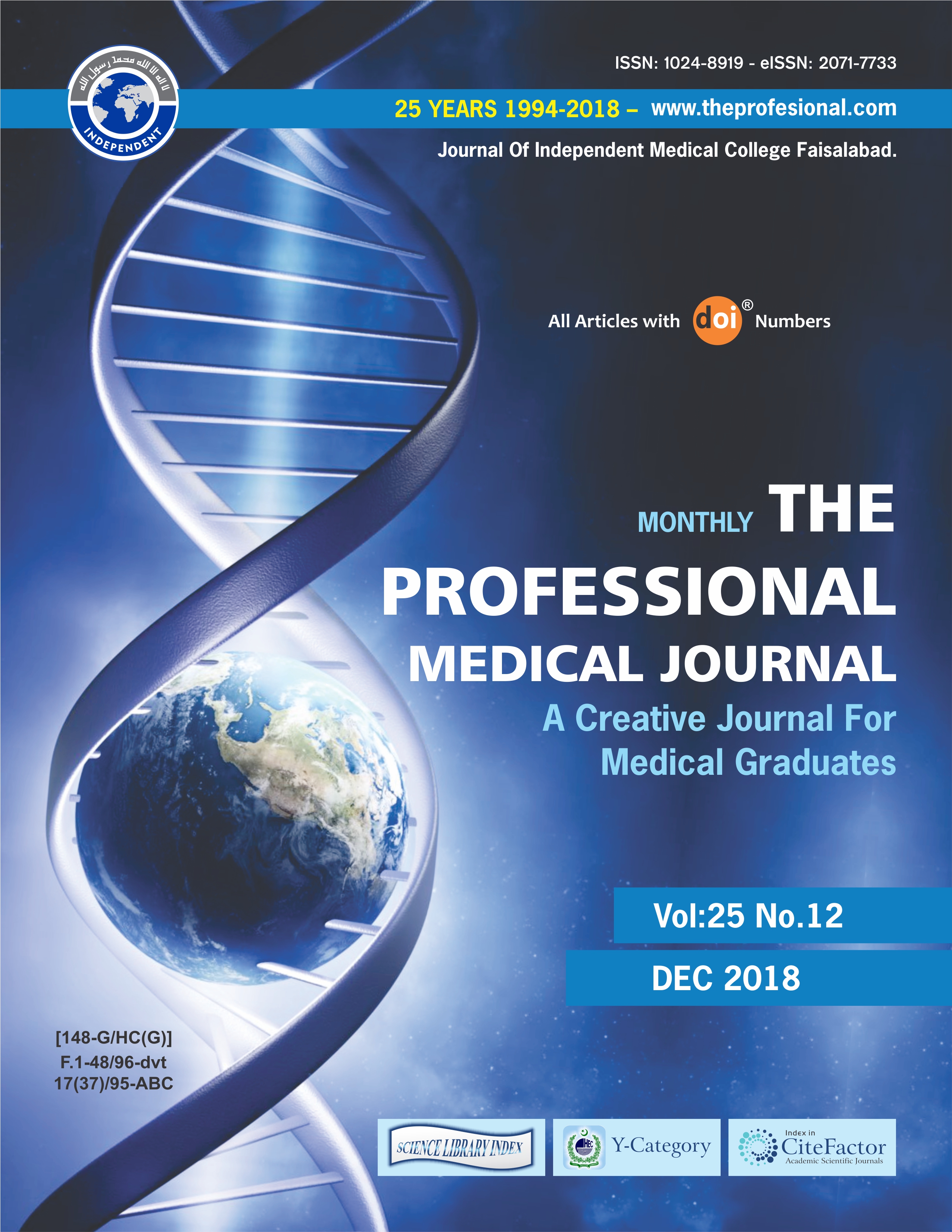 Downloads