HYPERTENSION
STRATEGIC NEED TO CONTROL RISK FACTORS AND DRUG RATIONALIZATION, A CROSS SECTIONAL DESCRIPTIVE STUDY
Keywords:
Hypertension, Life style modification, awareness, treatment compliance, drug utilization, antihypertensive drugs
Abstract
Objectives: The study aim was to analyze the awareness of hypertension, life
style changes, treatment compliance and drug utilization of antihypertensive drugs among
HTN patients. Study Design: The prospective study. Setting: Cardiology Section of a Tertiary
Care Private Hospital, Karachi, Pakistan. Period: Six months. Methods: Approximately 243
HTN patients were enrolled. Patient's history, demographic descriptions and antihypertensive
treatment were recorded through medical profiles. The descriptive statistical data was analyzed
with Statistical Package for Social Sciences (SPSS-20). Results: Out of 243 patients, majority
were male (56.8%) with mean age of 59 years. Smoking and physical inactivity (39.5% and
28.8%) were found the two leading environmental risk factors associated to hypertension.
Majority of patients were still untreated (53.9%) and only (19.8%) patients treated appropriately.
The reasons obtained behind included poor compliance (48.1%) against antihypertensive
medicines, less awareness of HTN (23.9%) than unawareness (76.1%) and lack of clinical visits
in relation to financial problems (25.1%, 26.7%). Antihypertensive drugs utilized were β-blockers
(28%), ACE inhibitors (25.1%), CCBs (20.6%) followed by ARBs (19.8%) and diuretics (6.6%).
Conclusion: Hypertension can be overcome by advancement of knowledge, health educational
programs, promoting awareness of early recognition and treatment protocol.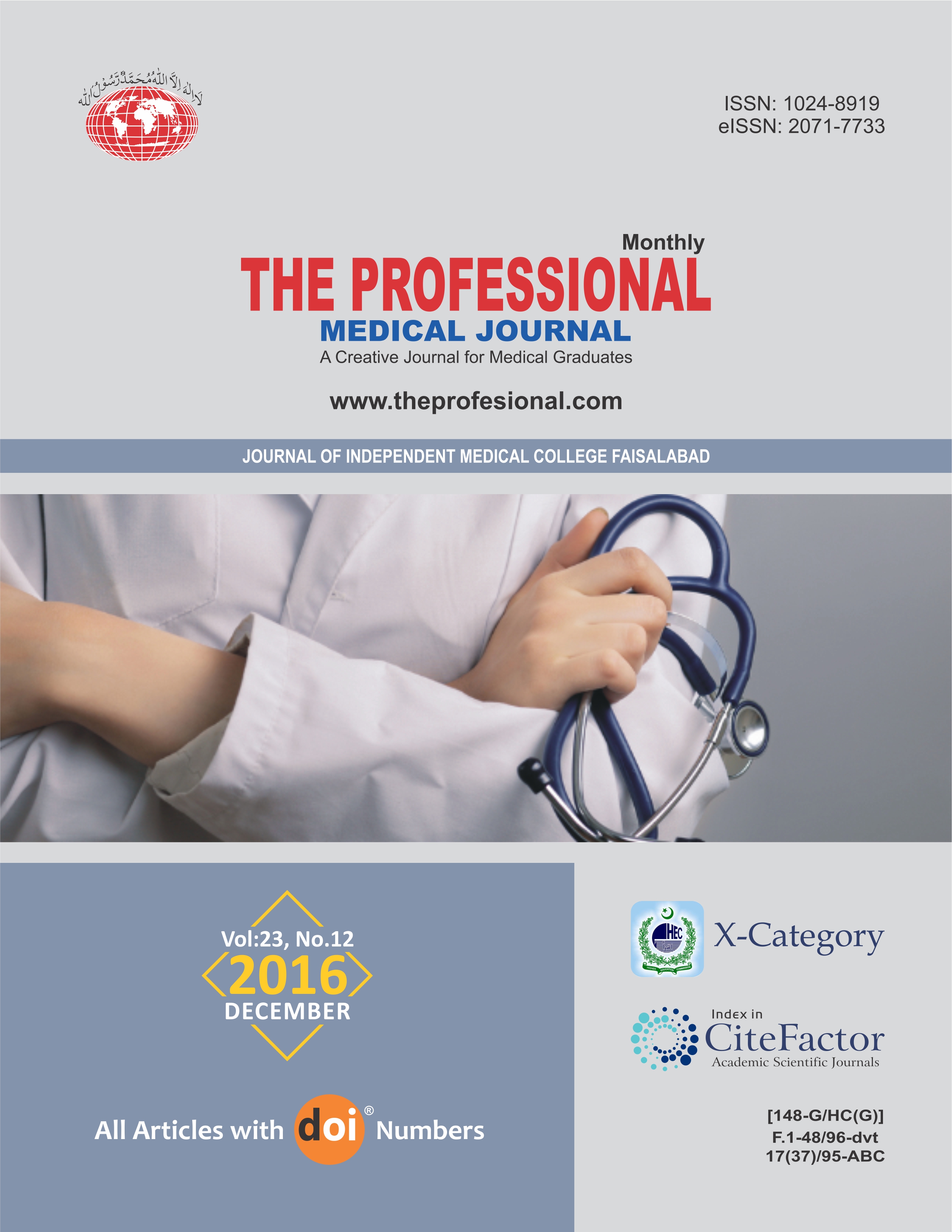 Downloads