HOSPITALIZED PATIENTS
METHICILIN RESISTANT STAPHYLOCOCCUS AUREUS PREVALENCE AND SUSCEPTIBILITY PATRON
Keywords:
MRSA, MRSE, Nasal swab
Abstract
Objectives: An alarming rise in Methicillin resistant Staphylococcus aureus
(MRSA) associated hospital based infections has been reported in recent decades.Prolonged
hospital stay, unhygienic health services are confined to this challenging serious problem.
Anterior nares of humans are a natural reservoir for Staphylococcus aureus with asymptomatic
colonization. This study was designed to determine the prevalence of nasal carriage rate of
MRSA among hospitalized patients. Study Design: Cross sectional study. Setting: Punjab
Institute of Cardiology, Lahore, Pakistan. Period: January 2013- 2014. Materials & Methods:
Nasal swabs were collected from hospitalized patients. Total 2,440 patients were screened for
the nasal carriage of MRSA. Microbiologically, identification of S. aureus was done on the basis
of colony morphology, Gram staining and biochemical tests. Identified isolates of S. aureus were
further tested for cefoxitin susceptibility testing, following the technique of modified Kirby Bauer disc
diffusion using Mueller-Hinton agar as per Clinical Laboratory Standards Institute (CLSI) guidelines
2013. Results: Out of total 2,440 nasal swabs, 60.45% (1475/2440) were Staphylococcus
species. Among Staphylococcus group, 86.10% (1270/1475) were Staphylococcus aureus.
The frequency of MRSA and MSSA (Methicillin sensitive Staphylococcus aureus) was 5.20%
(66/1270) and 94.8% (1204/1270) respectively. Overall nasal carriage of MRSA is 2.70%
(66/2440). The coagulase negative Staphylococcus were found in 205 (13.90%) cases while
MRSE (Methicillin resistance Staphylococcus epidermdis) were found in only 7 (3.41%) cases.
Conclusion: Overall nasal carriage rate of MRSA was 2.70%.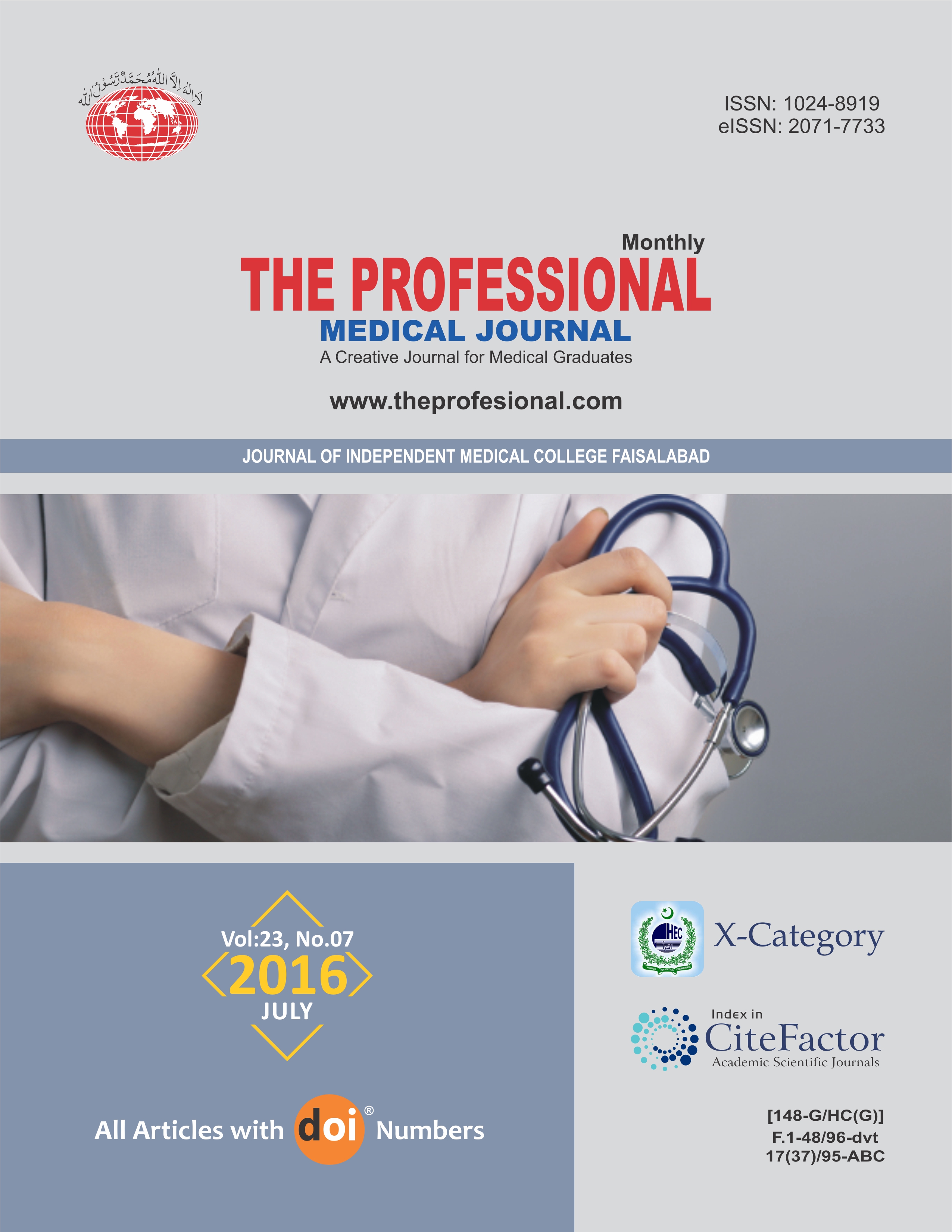 Downloads