NEWBORN BODY TEMPRATURE;
COMPARATIVE STUDY TO SEE THE IMPACT ON NEWBORN BODY TEMPERATURE AFTER SKIN CONTACT OF MOTHER AND NEWBORN V/S CONVENTIONAL METHOD.
Keywords:
skin to skin contact,, baby warmer,, millennium development goal
Abstract
Objectives… To identify comparative study to see the impact on newborn
body temperature after skin contact of mother and newborn v/s conventional method. Study
Design: Cross sectional, analytical study. Place and Duration: Department of Obstetrics and
Gynecology (Unit-III) Liaquat University Hospital, Hyderabad Sindh from May 2013 to April
2014. Methods: All the laboring women with no any antenatal complication and with cephalic
presentation admitted at term pregnancy for normal vaginal delivery along with new born with
Apgar score more than 6 were approached by duty doctors. Written as well as verbal consent
was obtained and women have allocated numbers, 1 to 120. The women were divided in
two groups. Group A (baby warmer group 60 patients) and Group B (Skin to skin contact 60
patients). Results: 120 patients were recruited and randomly equally divided into two groups.
There over all mean age of these patients was 26.7+- 5.0years. In group A the gravida was
found as between 1 to 6 children in 60% (n=30), Compared with Group B, 64% (n=32). The
overall mean hospital stay was as 6.6+_ 1.6 hours. Personal health response like was found
in 76% (n =38) patients with group A compared with Group B 86% (n=43). Mother response
like was found in 76% (n=38 patient in group A) compared with group B 76% (n=38). There
is statically significant mean difference in ◦F after one hour was observed (P=0.001) between
group A and group B, no significant mean difference in temperature ◦F after 1 and 5 minutes
were observed ( P > 0.05)compared with in group B 76% (n=38) patients. Conclusion: Skin
to skin contact reduces the hypothermia, so it should be encourage and continue. Skin to
skin contact is easy, cheap and helps in bonding of mother and baby. With this practice we
will achieve the millennium development goal (MDG) that is to decrease neonatal mortality in
Pakistan.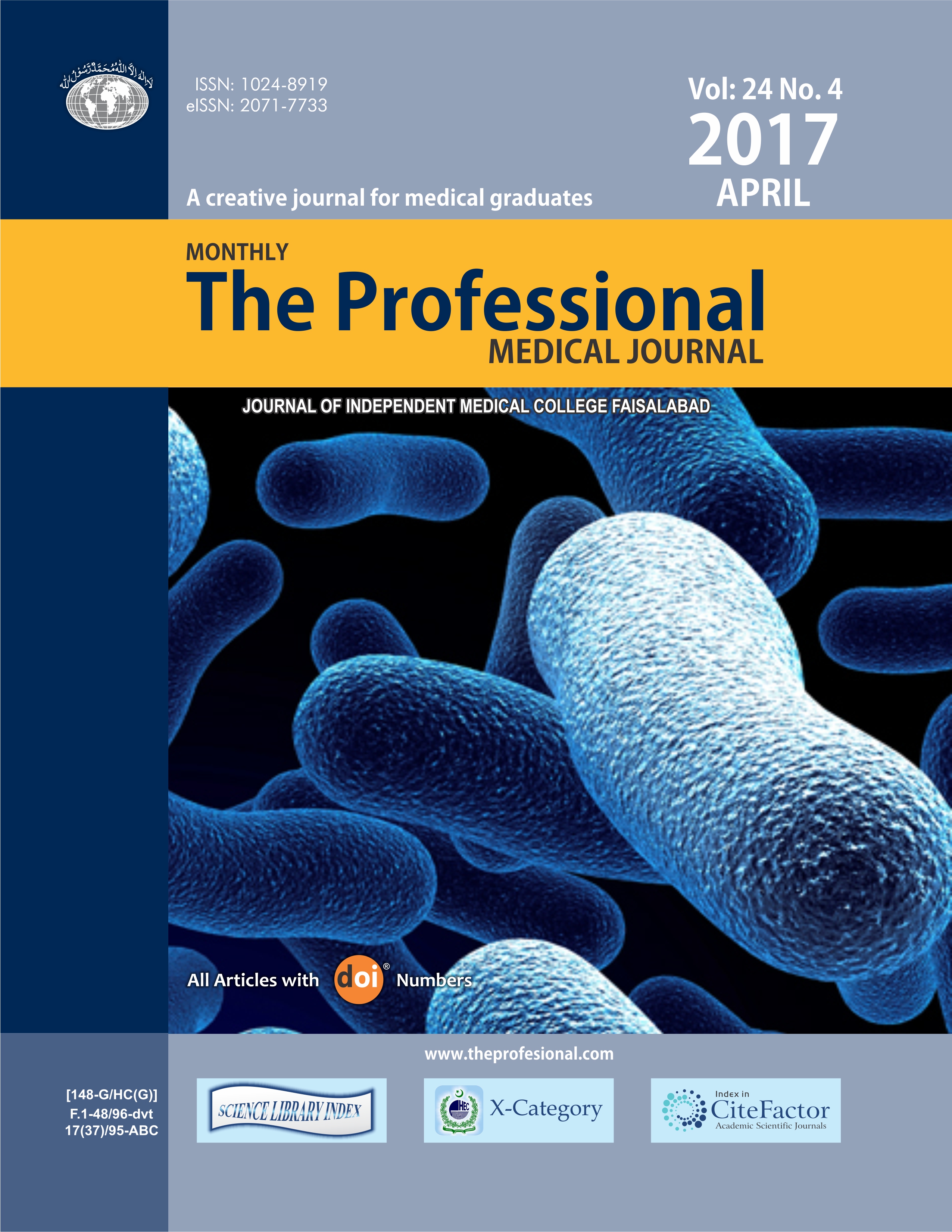 Downloads