PROTECTIVE EFFECT OF ZINC;
AGAINST SALT INDUCED MACROSCOPIC CHANGES IN HUMERUS AND FEMUR OF RATS
Keywords:
Gross parameters,, mid shaft diameters,, Salt,, Zinc.
Abstract
Background: Nutrition is an important determinant of bone health. Micronutrients,
other than calcium has been paid less attention to-date in the prevention and treatment of bone
diseases. Objective: To evaluate the protective effect of zinc on high salt induced gross changes
in humerus and femur of rats. Study design: Analytical control randomized trial. Place and
duration of study: Islamic International Medical College, Rawalpindi, hosted the research with
the cooperation of National Institute of Health; Islamabad. The study was approved by Ethical
review committee of Riphah international university before its initiation. It took six months to
complete the research (Sep 2015-March 2016). Material and methods: Forty five adult female
Sprague Dawley, 10-12 weeks old rats were used in the study. Three groups were made, each
having fifteen rats. Control group C (N=15) received laboratory diet without any alteration.
Experimental group A (N=15) were served with high salt diet (8%NaCl) whereas experimental
group B (N=15) animals were given high salt diet augmented with zinc (50mg/kg/day).All
groups were given the diet for eight weeks. Animals were weighed at the start and end of
study after which they were sacrificed. Left humeri and femora of all rats were obtained. Weight
and mid shaft diameters of bones were recorded. The results were compiled after comparison
amongst all the groups. Results: Marked gross changes were witnessed in experimental
groups. These changes were of greater severity in high salt diet group as compared to the zinc
supplemented group in which reverse beneficial effects were noticed. After zinc administration,
there was substantial increase in the weight of animals and bones with concurrent increase in
mid shaft diameters. Conclusion: Zinc has a Protective role against high salt induced damage
on the gross parameters of bones.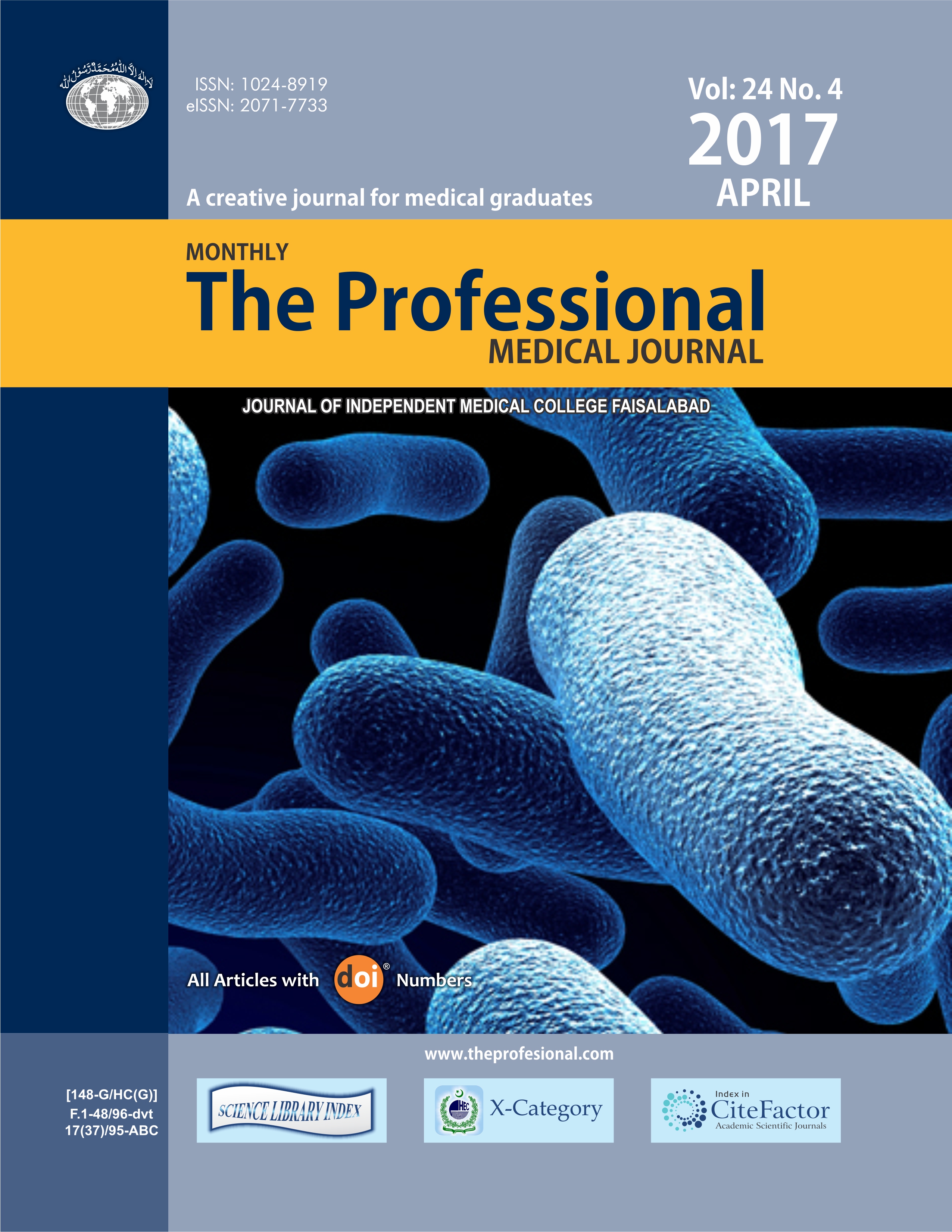 Downloads