FRACTURE OF SPINE:
UNSTABLE FRACTURE OF THE THORACOLUMBAR SPINE, TO DETERMINE THE EFFECTIVENESS OF PEDICLE SCREW AND ROD FIXATION FOR MANAGEMENT.
Keywords:
Fractures;, Pedicle screw fixation;, rod instrumentation;, thoracolumbar spine;, traumatic injury.
Abstract
Objectives: In this study we analyze and study the effectiveness of pedicle
screw and rod fixation for the management of unstable fractures of the thoracolumbar spine.
The type of study is a Study Design: Case series. Period: 1.5 year duration from April 2014 to
September 2015. Setting: Tertiary Care Centre in Karachi, Pakistan. Materials and methods:
N= 35 patients were operated at our institute and included in the study. The inclusion criteria
was all those patients who presented to us with unstable fractures of the thoracolumbar spine
via the accident and emergency department of the hospital, and were operated upon and gave
full informed consent to partake in the research were included in this study. All the patients
were operated under general anesthesia. The short segment fixation with pedicle screw rod
fixation using the posterior approach was the technique utilized for treatment. Rehabilitation
was started immediately after the surgical procedure. Data was analyzed using SPSS version
23. Results: The study population consisted of n= 35 patients of which n= 25 (71.42%) were
males and n= 10 (28.57%) were females, the mean age of the study population was 33.5
years. A history of fall from height was the most common cause of injury in n= 26 (74.28%)
of the patients, next was automobile accidents in n= 9 patients (25.71%). Burst fracture was
the most common type of injury. The sagittal angle was 23.5O pre operatively and 10.75 O post
operatively, and at follow up the loss of angle was found to be 4.80 respectively. The sagittal
index values were as follows, pre-operative 0.53, post-operative 0.75 and 0.72 at follow up (final
follow up). N= 30 (85.71%) patients showed improvement in their ASIA status, n= 19 (54.28%)
showed single grade improvement, n= 10 (28.57%) showed double grade improvement, n=
1 (2.85%) showed triple grade improvement, while n= 5 (14.28%) cases did not show any
improvement. The mean duration between injury and surgical intervention was 5.5 days with
a range of 1 to 23 days, the major cause of this delay was delay in reaching the hospital. The
most common complication observed was pressure sores in n= 4 (11.42%) and urinary tract
infections (UTI) seen in n= 5 (14.28%) of patients, followed by implant failure in n=3 (8.57%)
patients. Conclusion: According to the results of our study unstable burst fractures was the
most prevalent type of fracture observed, there was a marked improvement in the radiological
parameters post operatively, while the neurological improvement was decent. The technique of
pedicle screw rod and fixation using the posterior approach provides good surgical outcome
and better stabilization, with a fair amount of neurological improvement for these patients.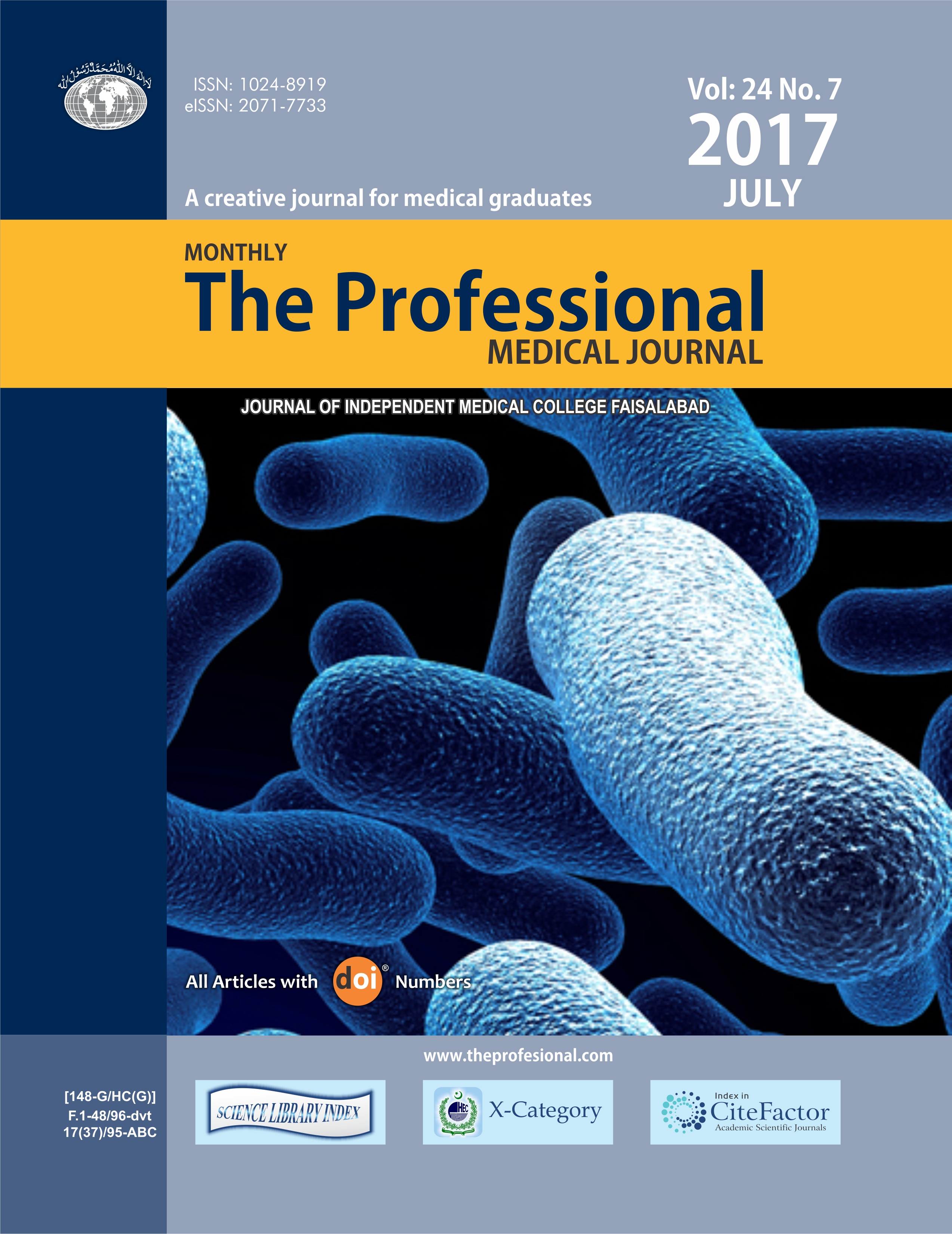 Downloads