ANTI HBS TITRE;
AMONG OUTGOING FINAL YEAR MBBS STUDENTS
Keywords:
Inj. Engerix B,, Anti HBs,, HBsAg,, Non Responders,, Poor Responders,, Adequate Responders,, Good Responders.
Abstract
Introduction: The doctors and paramedical staff are at high risk of developing
Hepatitis B, infection. Hepatitis B vaccine is mandatory for medical students prior to admission
in medical colleges. After completion of vaccination determination of anti HBS is not in practice.
All over the world some people remain non responders and don't develop adequate antibody
titre essential for protection against hepatitis B virus. This study is therefore designed to estimate
the anti HBs titre among the medical students, who have completed three doses of hepatitis
B vaccine. Objectives: To determine the serum anti HBs antibodies among the outgoing final
year MBBS students who have received complete 03 doses of hepatitis B vaccine. Study
Design: Descriptive cross sectional study. Place and Duration: This study was conducted
from November 2010 to December 2015 at Biochemistry department Punjab Medical College in
collaboration with Nawaz Medicare Hospital Faisalabad. Material and Methods: Two hundred
and fifty nine female medical (MBBS) students from outgoing classes during the period of
November 2010 to December 2015 were enrolled in this study. All subjects were at the age
of 22-24 years at the time of sampling. Each received 03 doses of injection Engerix B, 10
mcg/0.5ml each in a schedule of 0, 01, 06 months since the last 05 years. The blood samples
were allowed to clot and serum was separated. The anti HBs and HBsAg were determined by
3rd generation ELISA method. Results: A total 259 female medical students from outgoing final
year MBBS classes were enrolled in this study. Among these subjects 48 (18.5%) had serum
anti HBs levels < 10 IU/L, 77 subjects (29.7%) have levels 10-20 IU/L, 116 subjects (44.8 %)
have serum levels 21-100 IU/L, while 18 subjects (10%) have > 100 IU/L serum anti HBs levels.
Conclusion: The incidence of non responders and poor responders is higher among the
vaccinees in this study as compared to foreign studies after five years of Hepatitis B vaccination.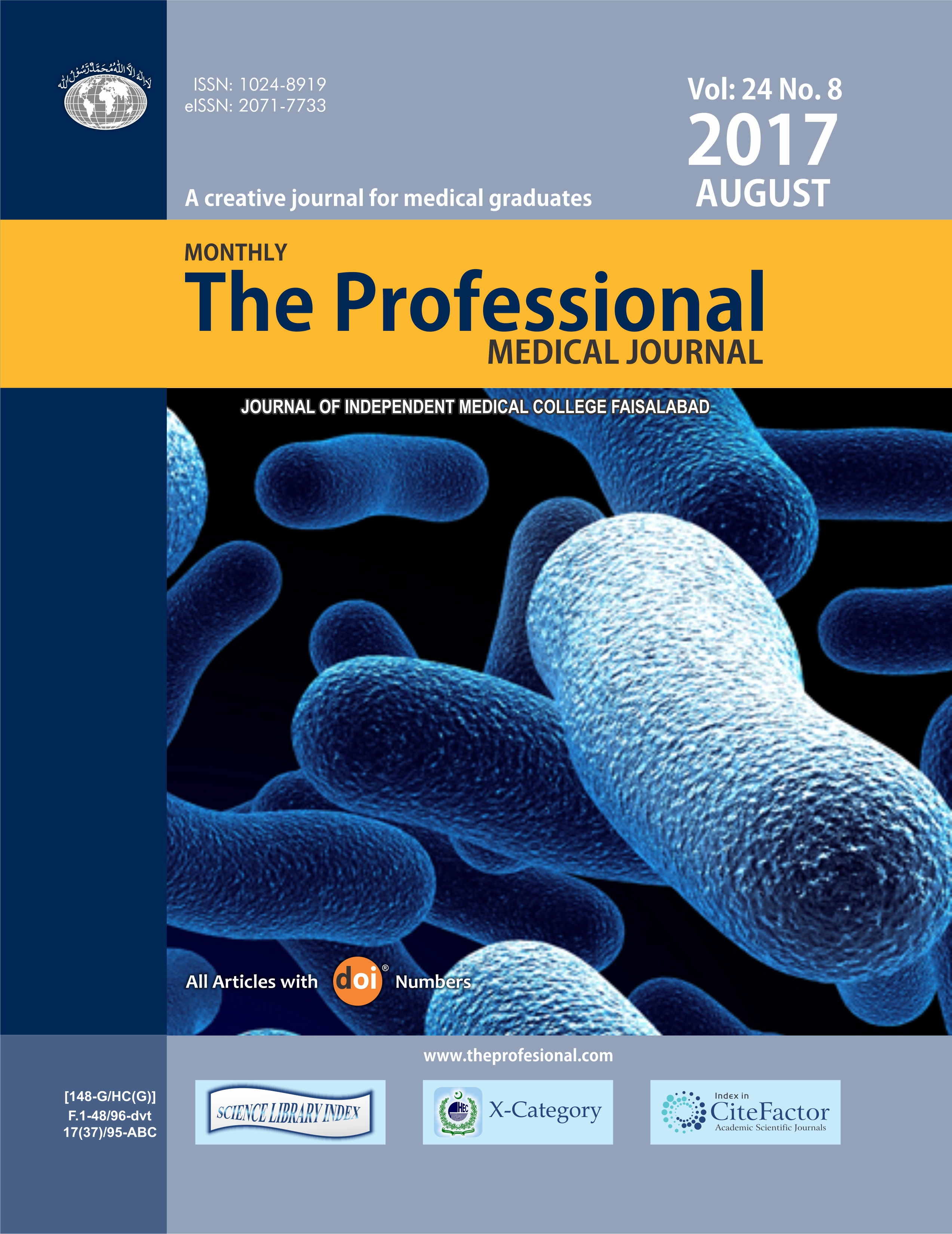 Downloads